Foundation Degree Creative Media

Our foundation degrees, in partnership with the University of Plymouth, are equivalent to studying for the first two years of an honours degree, but unlike traditional degrees, there are no formal entry requirements. Created in collaboration with employers, they combine academic study with developing the skills and attributes needed in the workplace. It makes them ideal preparation for a specific profession or industry or for making progress in your existing career. You can always convert to a full honours degree by taking a top-up course on completion.
Do you want to continue your creative media studies into higher education? Are you passionate about pursuing a career in the creative media industry, such as filmmaking, photography, editing, graphics design, social media, content creation, podcasting, branding, animation, video game design, VFX, or interactive media?
Our FdA Creative Media programme is designed to equip you with a broad range of high-level skills across all these areas to increase your chances of success when turning your dream career into a reality.
During this course, you will enhance your technical expertise through hands-on workshops with industry-standard equipment and technology, and gain insights into the creative thinking and production process by completing multiple production projects and live briefs. As you progress through the course you will identify the ideal pathway for progressing into employment or developing entrepreneurial activities.
This qualification's modules are designed to work for you, and have been developed to provide you with the flexibility to either explore multiple practical disciplines or develop and focus on one discipline throughout the entire two years.
During the course you will study:
– Introduction to creative media practice
– Developing narratives
– Employability, entrepreneurship, and social media
– Transmedia storytelling and branding
– Situating practice
– Critical dialogues and perspectives
– Exploring societal issues
– Interactive media and emerging technologies
– Explore, experiment and exhibit
You will also undertake a specialist major project.
The Creative Media programme is delivered by a team of experienced and approachable lecturers who have a wealth of industry knowledge and expertise.
Select from the start date/s below…
Sep 2023 : North Devon : Full-time
Cost : * Annual Fee £9250
North Devon campus
Sep 2023 : North Devon : Full-time
Cost : * Annual Fee £9250
North Devon campus
Sep 2024 : North Devon : Full-time
Assessments
The method of assessment varies between modules reflecting the need to develop a range of different knowledge, understanding and skills. Typically, you will encounter practical assessments, portfolio development, written reports, presentations, and individual and group artefacts.
Entry Requirements
You should have prior attainment of a Level 3 qualification (such as A Levels, T Levels or BTEC) with the equivalent of 48 UCAS points or above. However, you may also be considered if you have relevant employment experience. Please contact our Advice & Guidance Team for more information.
Progression
Upon successful completion of this programme, you can progress to the BA (Hons) Professional Development (Creative Industries) programme at Petroc or complete your degree in your chosen specialism at another higher educator provider, university or college.



Depending on your specialism, you will gain skills to enable you to develop your career in the following areas: Film & TV Production, Photographer, Podcast Production, Film Editing, Television Video Editing, Digital Journalism, Web Design, Mobile App Design, Sound Media, Radio Broadcast Technician, Visual Effects Design, Digital Art Development, Game Design, Videographer and Media Event Photographer.
FAQs
Q: Will I have the chance to do project work and develop my own interests?

A: Most of the assessments across the modules can be tailored and shaped to suit your relevant specialist disciplines. At the end of each year, there is a large 40-credit module, which allows you to situate everything you have learnt that year into a project of your choosing.



Q: Will I have to purchase textbooks for this course?

A: There is a core reading list for each module and these books are available in our learning resource centres.



Q: Is this course suitable for mature students?

A: Yes, there is usually a diverse range of ages and backgrounds on our programmes.



Q: Is there any funding available?

A: We can support you in applying for Student Finance. There are a range of support bursaries available if you meet the criteria. You will also have the opportunity to take part in the HE student internship and bursary scheme.
Study Programme
Every full-time student at Petroc will have their own Study Programme which will include:

– Your academic or vocational qualification.

– Maths and English Language development – if you have not achieved GCSE grade 4 in either of these subjects.

– Work Experience – hours will vary depending on your qualification and course level.

– Tutor Support – to support your personal, academic and professional development.

– Sustainability – helping you to identify how you can improve the sustainability of your future employment sectors.

– Personal Development Awards – developing six key areas of personal and employability behaviours to prepare you for the working world.
Starting Date : 11/09/2023
Course Code : HEB149F (2023)
North Devon campus
Starting Date : 11/09/2023
Course Code : HEB149F(Y2) (2023)
North Devon campus
Starting Date : 09/09/2024
Course Code : HEB149F (2024)
North Devon campus
Why Petroc should be your first choice
Petroc offers high quality education and training across North and Mid Devon. We provide outstanding learning, excellent facilities, strong connections to employers and a supportive environment to help you fulfil your education goals and set you on your path to the career of your dreams.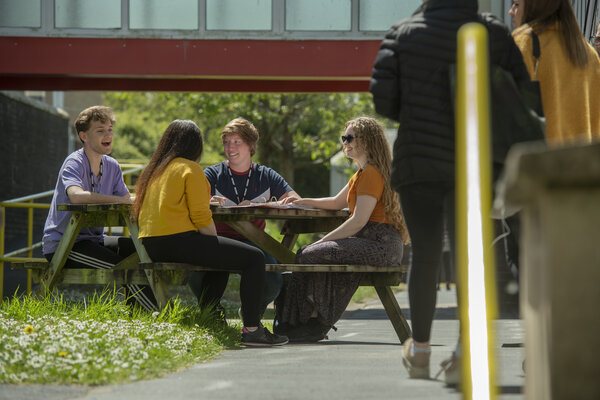 SUPPORTIVE
We offer a supportive and inclusive environment where you can flourish and feel a valued member of the college and wider community. 
INSPIRING
Our teaching spaces and facilities are some of the best in the region, providing stimulating and true-to-life learning environments. 
CONNECTED
We'll provide you with the experiences you need to be ready for employment or the next step on your educational journey.
You may also be interested in