This A Level Geography course covers a broad range of topics that will help you make sense of what is happening in the world today. The content will inspire and develop your geographical understanding to engage critically with real-world issues and places. You will grow as an independent thinker and as an informed and engaged citizen who understands the role and importance of geography as a key discipline.
During the course, you will study the following topics:
– Globalisation: As globalisation and global interdependence continue to accelerate, it causes opportunities for businesses and people, but also results in inequalities. By recognising these tensions you will be able to evaluate solutions.
– Coastal landscapes and change: Understand this key physical landscape which is threatened by physical processes and human activity. Understand the need for management of these areas, both inside and outside the UK. This will involve completing a one-day fieldwork enquiry into a coastal issue in the local area.
– Diverse places: Putting North Devon into a global context and studying how it is influenced by people, capital, information and resources. This will involve completing a one-day fieldwork enquiry into the diversity of Bristol.
– The water cycle and water insecurity: Water is fundamental to supporting life and operates on a variety of scales. You will study the physical processes that control the circulation of water and gain knowledge of the global issue of water insecurity and approaches to managing water supply.
– The carbon cycle and energy security: You will see how physical processes move carbon from stores on the land, ocean and atmosphere and how the reliance on fossil fuels has created significant changes to these stores. You will be able to evaluate a variety of adaptation and mitigation strategies on a local and global scale.
– Superpowers: The world's superpowers have a very significant impact on the global economy, politics and the environment. These powers are frequently contested and have global impacts.
– Tectonic processes and hazards: Earthquakes, volcanic eruptions and tsunamis represent a significant risk in some parts of the world, especially where there are high population density and low levels of development.
– Health, Human Rights and Intervention: Human rights are fundamental to our world but are being contested globally which impacts development, health and inequality. Therefore it sometimes requires intervention through the military or aid programs which have varying success rates. You will determine the social, economic and environmental impacts of these interventions and if they can bring greater peace, development, health and human rights to the world.
Coursework will be developed throughout the end of the first year with a main focus on the second year.
Your competence in using geographical skills will be developed throughout your studies. These will be introduced to a roughly equal balance of quantitative and qualitative across all topics, e.g. being able to interpret graphs and maps and identify key trends and patterns.
Assessments
There will be three 2 hour 15 minute exams making up the following marks:

Physical Geography – 30%

Human Geography – 30%

Synoptic Resource Paper – 20%



Plus an independent investigation in the form of a 4000-word report, worth 20%.



In addition, we will set you regular homework and end-of-topic tests to provide you, your teacher and your parents or guardians with feedback on your progress. We also give you access to exam papers and mark schemes and set you mock exams before the real thing.
Entry Requirements
To be accepted onto this Level 3 programme, you must hold at least five GCSEs at grade 4 or above. This must include a grade 5 for Maths and English Language. You should ideally have a grade 4 in GCSE Geography or grade 6 in another humanities subject.
Progression
Geography is a key A Level subject and an excellent subject for many degree courses in both the sciences and humanities as it provides many opportunities for you to develop your skills and problem-solving ability. Most geography degree students specialise in particular aspects of the subject such as development, international relations, human geography, physical geography, geology or earth sciences.



Careers may include:

– Environment and sustainability: conservation work, environmental health work, environmental consulting

– Society: teaching, campaigning, marketing

– Business world: law, economic advising, insurance

– Development and Global Issues – aid work, diplomat, human rights

– Geographical techniques – GIS specialism, surveying

– Settlement – planning, estate agents

– Travel, tourism, leisure and culture – travel writing and travel agents
Facilities and resources
Geography makes use of textbooks, videos, journals and up-to-date newspaper articles. Increasingly current resources are sourced from the web. Students have excellent access to IT, all classrooms have fully interactive smartboards and trolleys of Chromebooks which allow us to access the internet and Geography Google classroom. The Geography Google classroom is extremely well-resourced with lots of interactive revision aids, past exam papers, mark schemes and interactive software that you can access from college or home.
FAQs
Q: Will there be much homework?

A: Compulsory homework questions are set each week to give you preparation in the style of the examinations you will encounter. You are expected to spend at least two hours per week outside class to enable you to succeed.



Q: Will there be any trips?

A: You will complete at least four days of fieldwork as part of the course. This may be as a class or in smaller groups.



Q: I have already studied coasts at GCSE, will it be boring?

A: Students find that GCSE gives them a general understanding of topics, but this is rapidly built upon and developed and will allow you to become more questioning of facts that you previously took for granted.



Q: Is there any coursework?

A: There is 20% coursework for A Level Geography.



Q: What subjects does Geography go well with?

A: Geography fits well with a wide range of both science and humanities subjects. If you are interested in physical geography you may study geography alongside environmental science, biology, chemistry, physics or maths. If you are more interested in the human geography elements you may study geography alongside economics, politics, history, sociology or business.
Study Programme
Every full-time student at Petroc will have their own Study Programme which will include:

– Your academic or vocational qualification.

– Maths and English Language development – if you have not achieved GCSE grade 4 in either of these subjects.

– Work Experience – hours will vary depending on your qualification and course level.

– Tutor Support – to support your personal, academic and professional development.

– Sustainability – helping you to identify how you can improve the sustainability of your future employment sectors.

– Personal Development Awards – developing six key areas of personal and employability behaviours to prepare you for the working world.
Starting Date : 08/09/2023
Course Code : FTB016 (2023)
North Devon campus
Starting Date : 09/09/2024
Course Code : FTB016 (2024)
North Devon campus
Why Petroc should be your first choice
Petroc offers high quality education and training across North and Mid Devon. We provide outstanding learning, excellent facilities, strong connections to employers and a supportive environment to help you fulfil your education goals and set you on your path to the career of your dreams.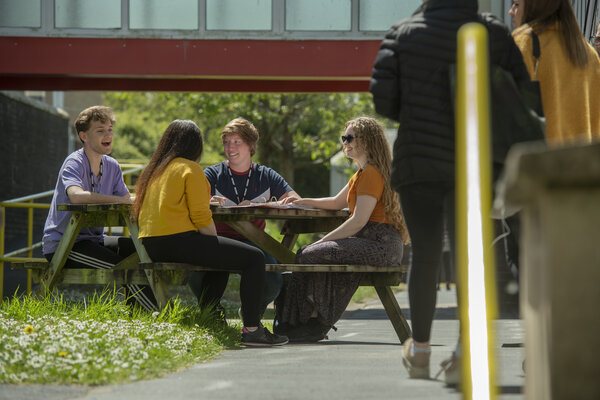 SUPPORTIVE
We offer a supportive and inclusive environment where you can flourish and feel a valued member of the college and wider community. 
INSPIRING
Our teaching spaces and facilities are some of the best in the region, providing stimulating and true-to-life learning environments. 
CONNECTED
We'll provide you with the experiences you need to be ready for employment or the next step on your educational journey.
You may also be interested in