T Levels combine classroom theory, practical learning and a minimum 315-hour industry placement with an employer to make sure you have real experience of the workplace. The Technical Qualification (TQ) is the main classroom-based element of the T Level and will see you learn from a curriculum that has been shaped by industry experts. T Level courses have been developed in collaboration with employers and businesses so that the content will meet the needs of industry and prepare you for work. They provide the knowledge and experience needed to open the door to highly skilled employment, an apprenticeship or higher-level study, including university.
The Health T Level is designed to give you both the theory and knowledge of excellent health care practice as well as well-developed practical skills. The expectation is that learners who complete this programme of study will go on to work in the health care professions, for example, allied health professions as well as nursing and midwifery.
The course content focuses on preparing you for the next steps; either working in health care or studying at degree level. The T Level programme contains core units, preparing you to be industry-ready as well as project work with an employer and a substantial work placement. This gives you the critical all-round skills that will enable you to work in the highly regarded healthcare sector in the UK today.
Some of the core units on this particular programme are:
– Working in health and science
– Managing information and data in the sector
– Infection prevention and control
– Health and wellbeing
– Good scientific and clinical practice
You will study Adult Nursing as your occupational specialism in year two.
You will also undertake work placement of a minimum of 315 hours. This ensures you gain a thorough introduction to core principles and the chance to put them into practice!
The programme carries UCAS points in line with three A Levels.
Assessments
The final grades are assessed via examination as well as written assessments. You must also complete the minimum 45 day placement to succeed on the course.
Entry Requirements
To be accepted onto this T Level programme, you must hold at least five GCSEs at grade 4 or above. This must include grade 5 in English and Science.
Progression
You can apply for a whole host of degrees to suit your own interest on successful completion of the programme, for example, nursing (including specialist nursing degrees such as learning disabilities nursing, mental health nursing), midwifery, speech therapy, occupational therapy, operating department practitioner as well as many other allied health professions. Alternatively, you may wish to undertake a higher-level apprenticeship.
Facilities and resources
We have laboratory facilities for science-based learning, excellent online accessible resources for when you need to access learning remotely as well as a supportive, experienced team. You will be allocated a personal tutor who will support and guide you through the whole programme.
FAQs
Q: Is there an age restriction for T Levels?

A: Yes, T Levels are for learners aged 16-19.



Q: Do I need science to study this course?

A: Yes, you will need science at grade 4 or above as a minimum entry requirement.



Q: Can I choose where I do my work placement?

A: You will need to work with an employer who can support this programme, so this will be discussed in conjunction with your tutor.



Q: What about support for my learning needs in placement?

A: We will work with the employers and yourself to make sure you are not disadvantaged by any learning needs Eg dyslexia
Study Programme
Every full-time student at Petroc will have their own Study Programme which will include:

– Your academic or vocational qualification.

– Maths and English Language development – if you have not achieved GCSE grade 4 in either of these subjects.

– Work Experience – hours will vary depending on your qualification and course level.

– Tutor Support – to support your personal, academic and professional development.

– Sustainability – helping you to identify how you can improve the sustainability of your future employment sectors.

– Personal Development Awards – developing six key areas of personal and employability behaviours to prepare you for the working world.
As this course requires you to undertake work placements with children and/or vulnerable adults, a DBS check is required.
Starting Date : 09/09/2024
Course Code : FTB369 (2024)
North Devon campus
Why Petroc should be your first choice
Petroc offers high quality education and training across North and Mid Devon. We provide outstanding learning, excellent facilities, strong connections to employers and a supportive environment to help you fulfil your education goals and set you on your path to the career of your dreams.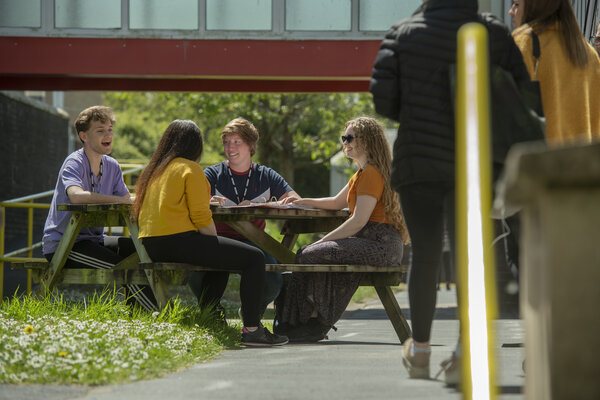 SUPPORTIVE
We offer a supportive and inclusive environment where you can flourish and feel a valued member of the college and wider community. 
INSPIRING
Our teaching spaces and facilities are some of the best in the region, providing stimulating and true-to-life learning environments. 
CONNECTED
We'll provide you with the experiences you need to be ready for employment or the next step on your educational journey.
You may also be interested in