Studying history is a fantastic choice if you are interested in the values, events and ideas that underpin our world today. Over two years, you will look in-depth at the tumultuous War of the Roses, overview the great story that is Germany from 1871 to 1991, and unwrap the saga of modern Russia.
During this History A Level programme, you will study two core areas; one in breadth and one in-depth:
The depth study concerns British history and focuses on the War of The Roses and Henry VII (1450 – 1499).This is an exciting period of history as proven by its inspiration of Game of Thrones as well as prominent authors such as Phillipa Gregory and Conn Iggulden.
The breadth study will look at the history of Germany between 1871 and 1991. From Bismarck, to Weimar through Hitler and the Cold War to the fall of the wall, this module goes far beyond the traditional scope of obsessing Nazi Germany that dominates many other history curricula. This wider focus will enable you to consider individuals, ideas and events in an entirely new context! In many ways, the history of Germany is a microcosm for the historical ideas of the modern world.
In addition, Soviet Russia and will be the inspiration for the coursework based historical investigation and you will also be given the opportunity to focus on an area of personal interest for your coursework. The politics of the Soviet Union and Modern Germany dovetail very well to explain much of the world in which we live today. We also have specialist teachers in Ancient History so you could look at this for your coursework.
The second year recovers the content of the first year and expands the period being looked at. The expectation is that with another year of experience, you will be able to build on existing knowledge and develop superior analytical skills.
Assessments
In the second year, you will sit two 2.5 hour exams: One on War of the Roses and one on Germany.

The historical investigation will take the form of a 3500-word essay, Soviet Russia is the default topic for this but there is the opportunity for you to pursue another area of history if you are passionate about it. In-year assessments will take a similar form to those required by the examination.
Entry Requirements
To be accepted onto this Level 3 programme, you must hold at least five GCSEs at grade 4 or above, including GCSE Maths and English Language.
You do not need to have undertaken History GCSE, but if you have done, you will be required to have achieved a minimum grade 4. You must have a grade 5 in English Language.
Progression
Many students progress to university degree courses in History or joint degrees with another subject. The high-level skills of analysis and evaluation you'll develop are in great demand by all leading professions and employers. History can lead to a range of professional careers and disciplines, including journalism, archaeology, law, business, teaching, management, librarianship and information science. Many leaders in industry, politics and even the armed forces have come from a background in history given the way it helps us understand the world!
Facilities and resources
A range of books and study pamphlets will be provided. In class, we use a range of teaching and interactive learning techniques including visual, written and discussion work.
FAQs
Q: Do I need History GCSE?

A: Categorically not! History is a skill, not knowledge. If you didn't take it at GCSE it could still be a wise choice at A Level. If you have the entry requirements and desire then you will do fine.



Q: What other courses go well with History?

A: History works well in developing the key skills needed for most A Levels, in particular English Literature, Classical Civilisation, Geography, English Language, Economics, Law, Politics, Psychology, Sociology.



Q: Is there a lot of homework and reading?

A: Yes. Students will be set a lot of background reading and research-based homework, and self-directed study is encouraged so that in lectures there can be a great emphasis on interactive learning, discussion and debates. Students are also given the opportunity to run debates, presentations and gain experience themselves in using the interactive whiteboard and online resources.



Q: Isn't history just dates and old men who don't matter anymore?

A: Not in any way. History is a constantly changing discipline. Views are challenged over time and just memorising information isn't enough. History is the art of debating the ideas, events and people that shaped past societies. Through doing this, we can build a stronger understanding of our world today.



Q: Do I need to have studied the selected topics before?

A: No you don't. Everything we do will be taught from scratch and doesn't require prior knowledge. Being informed is great and we would always encourage people to read ahead… however, if you haven't heard of the topics before, don't worry; it's an opportunity to learn about new times, places and people!
Study Programme
Every full-time student at Petroc will have their own Study Programme which will include:

– Your academic or vocational qualification.

– Maths and English Language development – if you have not achieved GCSE grade 4 in either of these subjects.

– Work Experience – hours will vary depending on your qualification and course level.

– Tutor Support – to support your personal, academic and professional development.

– Sustainability – helping you to identify how you can improve the sustainability of your future employment sectors.

– Personal Development Awards – developing six key areas of personal and employability behaviours to prepare you for the working world.
Starting Date : 08/09/2023
Course Code : FTB021 (2023)
North Devon campus
Starting Date : 09/09/2024
Course Code : FTB021 (2024)
North Devon campus
Why Petroc should be your first choice
Petroc offers high quality education and training across North and Mid Devon. We provide outstanding learning, excellent facilities, strong connections to employers and a supportive environment to help you fulfil your education goals and set you on your path to the career of your dreams.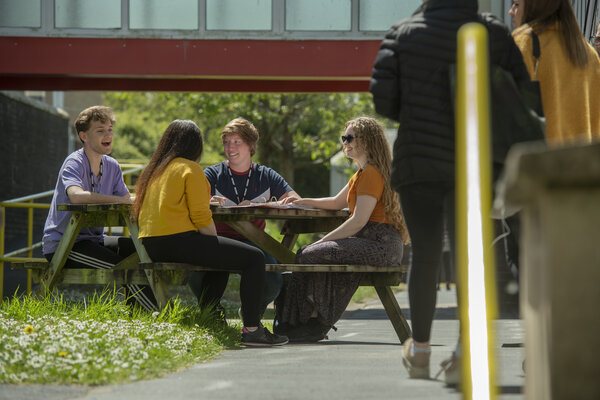 SUPPORTIVE
We offer a supportive and inclusive environment where you can flourish and feel a valued member of the college and wider community. 
INSPIRING
Our teaching spaces and facilities are some of the best in the region, providing stimulating and true-to-life learning environments. 
CONNECTED
We'll provide you with the experiences you need to be ready for employment or the next step on your educational journey.
You may also be interested in