Law may be one of the most prestigious career paths you can follow and this two-year programme of study provides an excellent grounding in the subject.
Not only will you gain an overview of the law in relation to some substantive areas, but also the ability to discuss sources of law, the English Legal System and explore law and morality and justice. The study of A Level Law, like any subject, requires that you learn some basics and this is what you will do over both years. You will start by looking at how law is made and then look at how this is dealt with in practice by applying law to different scenarios.
There are many areas of law and you will study the law of tort, criminal law and the law of contract. These areas are a good basis for the further study of law and indeed for use in everyday life. You will apply the areas of substantive law to realistic problem questions as well as have an opportunity to develop evaluative skills.
The study of the English Legal System includes learning about the progress of a criminal trial and the personnel involved in the administration of law. You'll gain real insight into how the legal system in this country works and how and why law is made. You will debate issues such as euthanasia, bringing back the death penalty, abortion, the rule of law and other sensitive and emotive issues that require questions of justice and morality (jurisprudence) to be considered.
In both years, there is a constant referral to the examination paper with plenty of opportunity to cover and refine exam technique.
Assessments
Throughout your study, you will be set meaningful assessments linked to the exam. These will take place regularly and your progress can be checked online. At the end of the first year, you will be assessed through mock exams to determine your progress.
Entry Requirements
To be accepted onto this Level 3 programme, you must hold at least five GCSEs at grade 4 or above, including GCSE Maths and English Language.
Your English Language must be a grade 5.
Progression
Many students progress to university, often to study Law as a degree. Law is regarded as a strongly academic A Level and also opens the door to studying many non-law related degrees.



Other A Level Law students choose to study to be a legal executive with a law firm and progress through the ILEX route. Accountancy, psychology and business are also good career links. Law is a useful subject to study for any career, be it science or humanities-based. It is a very logical and precise subject and such skills are always very valuable.
Facilities and resources
Teaching is mainly done through class discussion and exercises. You will use your recommended textbook, and detailed booklets will be provided on each topic. There is a shared moodle (virtual learning resource) which you can access for additional information. The library has a law section and has a subscription to the A Level Law Review.
FAQs
Q: Is there any coursework?

A: There is no coursework in A Level law. It is all based on examination.



Q: Do universities like you to have studied A Level Law before taking a Law degree?

A: It is not compulsory, but it gives you a good idea as to whether law is really something you enjoy. Approximately one-third of our A Level Law students each year decide to study law at university, with others taking related subjects such as criminology. There is a high drop out at university of students who take law without having studied it beforehand. It is completely wrong to say that universities will not accept students to study law at degree level if they have studied A Level Law. This is evidenced by the large number of our students who successfully gain places at a great number of different universities to study law each year. We have had students who have studied law at A Level accepted to study law at top universities including Cambridge. It is a sensible choice for those who may be considering law as a career. Experience has shown that students who study law at A Level who go onto law at university do have an advantage as they are not studying a new subject for the first time and already have some knowledge and skills.



Q: You have to be really bright to study law don't you?

A: As with any subject the harder you work the more you will achieve. We have known students who have come from a C grade profile to an A grade in law – but only because they chose to work for it and put in the required time and effort.
Study Programme
Every full-time student at Petroc will have their own Study Programme which will include:

– Your academic or vocational qualification.

– Maths and English Language development – if you have not achieved GCSE grade 4 in either of these subjects.

– Work Experience – hours will vary depending on your qualification and course level.

– Tutor Support – to support your personal, academic and professional development.

– Sustainability – helping you to identify how you can improve the sustainability of your future employment sectors.

– Personal Development Awards – developing six key areas of personal and employability behaviours to prepare you for the working world.
Starting Date : 08/09/2023
Course Code : FTB025 (2023)
North Devon campus
Starting Date : 09/09/2024
Course Code : FTB025 (2024)
North Devon campus
Why Petroc should be your first choice
Petroc offers high quality education and training across North and Mid Devon. We provide outstanding learning, excellent facilities, strong connections to employers and a supportive environment to help you fulfil your education goals and set you on your path to the career of your dreams.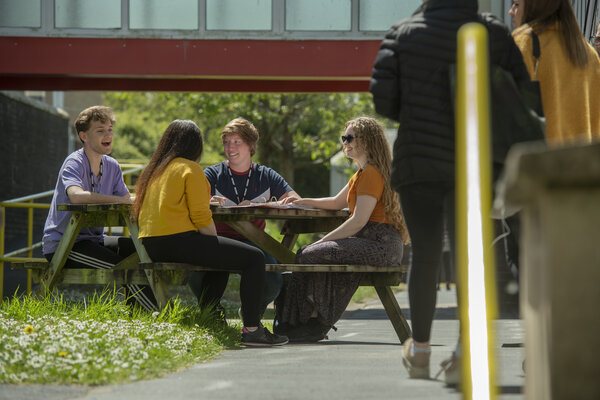 SUPPORTIVE
We offer a supportive and inclusive environment where you can flourish and feel a valued member of the college and wider community. 
INSPIRING
Our teaching spaces and facilities are some of the best in the region, providing stimulating and true-to-life learning environments. 
CONNECTED
We'll provide you with the experiences you need to be ready for employment or the next step on your educational journey.
You may also be interested in