This stimulating and topical Sociology A Level course enables you to better understand people's behaviour and the societal influence on their lives. It will give you a real insight into the world around you.
During the course, you'll build up your knowledge and understanding of sociological thought and methods as well as develop your skills of analysis and evaluation – a great foundation for almost all courses in Higher Education.
Through this two year course, you will complete modules based on the topics of:
– Families and households: Looking at the structure of the family, thinking about how it has changed over time and why this may have been.
– Education: How do schools influence our lives? Is education fair? How and why is education organised.
– Crime and deviance: Looking at underlying causes and trends in deviance.
– Stratification and DIfferentiation: Takes a look at the different ways society is sub-divided and how these structures and categories like ethnicity, gender and ability might affect life-chances.
Alongside these topics, we will look at the theoretical perspectives and the methods used by sociologists to investigate society.
Assessments
Assessment is via three exams at the end of the two years. They contain a variety of short answer and long mark essays.
Entry Requirements
To be accepted onto this Level 3 programme, you must hold at least five GCSEs at grade 4 or above, including GCSE Maths and English Language.
Your English Language must be a grade 5.
Progression
Upon completion of this course, most students expect to go to university or some other form of Higher Education. Sociology is particularly useful for those who are considering the civil service and local government, management, voluntary agencies like Oxfam, teaching, law, journalism, medicine, social work, nursing or social policy. It teaches transferable skills of analysis and evaluation which are applicable to all career paths.
Facilities and resources
You will be required to purchase textbooks for both years of study.
FAQs
Q: What is sociology?

A: Sociology is a subject that allows you to understand human behaviour and social life. Sociologists study society and institutions such as government, families, the police and the courts. By doing this, they allow us to understand why we behave the way we do, and why certain individuals are affected by where they live or how poor they are; but mostly, it's about trying to help us understand ourselves and others better, and create a more understanding society. It's about walking a mile in another person's shoes, learning to avoid prejudice and helping to create tolerance. Sociology opens your mind to those questions you may never have asked. It can turn your world upside down – making you think about common sense and everyday issues that are taken for granted. Be prepared to leave the classroom with more questions than answers. Topics vary from poverty, gender, social identities, social inequalities, race, crime and deviance and comparing different societies.



Q: Do I have to do a lot of reading?

A: Yes, mostly based on the course material as well as reading interesting articles in current newspapers and researching topics further using text books and websites.



Q: Will there be opportunity for discussion and debate of current issues?

A: Very much so! This will allow you to form and give your own opinion on topics, there are always lively group discussions which you are expected to take part in.



Q: What other subjects go well with Sociology?

A: Geography, History, Classical Civilisation, Politics, Psychology, Economics, Law, Health and Social Care – any subject which try to explain why people do what they do.
Study Programme
Every full-time student at Petroc will have their own Study Programme which will include:

– Your academic or vocational qualification.

– Maths and English Language development – if you have not achieved GCSE grade 4 in either of these subjects.

– Work Experience – hours will vary depending on your qualification and course level.

– Tutor Support – to support your personal, academic and professional development.

– Sustainability – helping you to identify how you can improve the sustainability of your future employment sectors.

– Personal Development Awards – developing six key areas of personal and employability behaviours to prepare you for the working world.
Starting Date : 08/09/2023
Course Code : FTB037 (2023)
North Devon campus
Starting Date : 09/09/2024
Course Code : FTB037 (2024)
North Devon campus
Why Petroc should be your first choice
Petroc offers high quality education and training across North and Mid Devon. We provide outstanding learning, excellent facilities, strong connections to employers and a supportive environment to help you fulfil your education goals and set you on your path to the career of your dreams.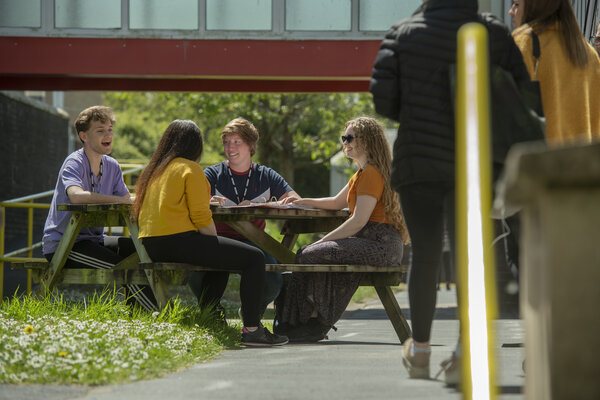 SUPPORTIVE
We offer a supportive and inclusive environment where you can flourish and feel a valued member of the college and wider community. 
INSPIRING
Our teaching spaces and facilities are some of the best in the region, providing stimulating and true-to-life learning environments. 
CONNECTED
We'll provide you with the experiences you need to be ready for employment or the next step on your educational journey.
You may also be interested in