Art, Craft & Design A Level

This diverse and highly creative Art, Craft and Design A Level will develop your independence and enthusiasm in these creative areas. You will work across a broad variety of practical areas in both 2D and 3D, and explore both design and expressive disciplines.
You will explore the ideas and concepts behind your work through research, creative thinking and the development of your ideas and final outcomes. You will be encouraged to produce individual solutions to set briefs, so your work can progress in a direction of your own choice which may be traditional art processes or more design-based activities such as, fashion, textiles, millinery, footwear, jewellery, product design, furniture, architecture, graphic design, film and photography.
This is a modular programme made up of themed coursework units followed by externally set assignments, including a timed piece of work. You will be introduced to many new ways of working and thinking about art, craft and design, and then encouraged to work individually to evolve your own solutions to a brief through discussion, research, experimentation and exploration.
Component 1: Personal investigation
– Research into a variety of artists, movements and disciplines
– Experiment with a broad range of art techniques and processes
– Develop a personal outcome that links with key themes and personal ambitions
– Produce a written document that encapsulates the fascinations within the individual project
– Present and display an outcome that has meaning and personal significance
Component 2: Externally set assignment
– Select and identify a personally meaningful project
– Research into a variety of artists, movements and disciplines that link with the assignment
– Experiment with a broad range of art techniques and processes that develop creative skills that further interests and future pathways
– Develop a personal outcome that links with the externally set assignment and personal intentions
Each year there will be the opportunity to take part in an educational visit to galleries and exhibitions; these visits are a really enjoyable experience that past students have found invaluable in extending their studies.
Assessments
Your work will be assessed using national assessment objectives which will be carefully explained. You will also assess your own work so that you understand exactly what kind of evidence you have to provide and how to improve your work. This includes recording your observations, experiences and ideas appropriate to your intentions; critically analysing and evaluating images and texts, showing your understanding; developing your ideas through sustained investigations and presenting a personal response. You will be given regular feedback about how you are progressing, and the opportunity to discuss and improve your work.
Entry Requirements
To be accepted onto this Level 3 programme, you must hold at least five GCSEs at grade 4 or above, including GCSE Maths and English Language.
A grade 5 or above in English Language and a creative GCSE subject (Art, Graphics, Textiles, Photography, Resistant Materials, CDT etc) is required. You will also be asked to bring a full portfolio of your work to your interview.

If, for any reason, you studied a creative GCSE but did not compete it due to ill health for example, you can still apply but a portfolio of relevant work can be shown at interview.
Progression
Studying the Art, Craft and Design A Level will allow you to gain knowledge of and explore the fundamental principles of art and design language and visual problem solving, that can then be applied to any visual career from architecture or interior design, to jewellery making, and from community artist or fashion forecaster to an illustrator, and many, many more potential careers.
Facilities and resources
Our spacious, creativity-inspiring art studios allow each student to have a dedicated personal work area. In addition, we have specialist workshops and facilities to support a variety of media. These include a print area, photography studio, iMac computers suite with industry-standard software for graphics, image-making, film and animation.

Those specialising in fashion and textiles have access to industrial and domestic sewing machines, mannequins, print and constructed textiles.

3D design is also enabled through woodworking machinery, ceramics, glass and metalworking facilities.

Learning Technologies and Library Services offer relaxed, quiet and comfortable places to study. You will find a variety of private and group study spaces on campus and multiple computers that can be pre-booked. The college WiFi also allows you to bring your own devices to use.

There are always friendly members of staff on hand to help you find information to assist your study, and you can borrow items including books, journals and media equipment in the Library.
FAQs
Q: Do I need to be good at drawing?

A: Not necessarily, the course will teach you how to improve your drawing skills. You just need to be keen and open-minded, prepared to try new things and take risks with your work.
Study Programme
Every full-time student at Petroc will have their own Study Programme which will include:

– Your academic or vocational qualification.

– Maths and English Language development – if you have not achieved GCSE grade 4 in either of these subjects.

– Work Experience – hours will vary depending on your qualification and course level.

– Tutor Support – to support your personal, academic and professional development.

– Sustainability – helping you to identify how you can improve the sustainability of your future employment sectors.

– Personal Development Awards – developing six key areas of personal and employability behaviours to prepare you for the working world.
Starting Date : 09/09/2024
Course Code : FTB003 (2024)
North Devon Campus
Why Petroc should be your first choice
Petroc offers high quality education and training across North and Mid Devon. We provide outstanding learning, excellent facilities, strong connections to employers and a supportive environment to help you fulfil your education goals and set you on your path to the career of your dreams.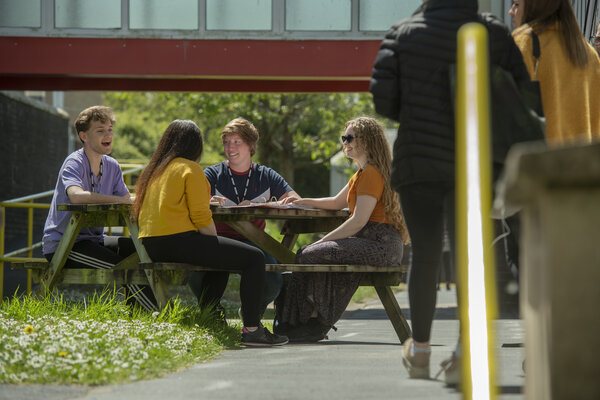 SUPPORTIVE
We offer a supportive and inclusive environment where you can flourish and feel a valued member of the college and wider community. 
INSPIRING
Our teaching spaces and facilities are some of the best in the region, providing stimulating and true-to-life learning environments. 
CONNECTED
We'll provide you with the experiences you need to be ready for employment or the next step on your educational journey.
You may also be interested in