Some 400 million people around the world speak Spanish, so it goes without saying that it is a very worthwhile language to study at A Level. People who can speak a foreign language are more marketable and have more career choices, and as Spanish is one of today's global languages, it is the perfect choice.
On the Spanish A Level programme, you will learn to communicate in advanced Spanish in a range of situations by studying a variety of exciting topics and current affairs, as well as exploring interesting issues that affect life in the 21st century. The four skills of listening, speaking, reading and writing that you studied at GCSE, will become more interdependent as you develop your Spanish.
There are four core units:
– Evolution of the Spanish society
– Culture in the Spanish speaking world
– Immigration and multicultural society
– Francos' dictatorship and the transition to democracy.
You will study the film `Volver' by acclaimed director Pedro Almodovar and a novel by the famous Columbian author Gabriel Garcia Maquez `El Coronel no Tiene Quien le Escriba'. You will also have the opportunity to explore topics of personal interest.
During both years, you may have the opportunity to enhance and put into practice the skills learnt within the programme with an educational trip to Spain. We have recently visited Barcelona, Malaga, Granada, Cordoba and most recently Seville. There may also be opportunities to have an individual exchange with Spanish students.
Assessments
The A Level is made up of two mandatory units in the first year, and two further mandatory units in the second year. There is no coursework; it is all assessed through exams.



In your final year there will be exams on all four mandatory units of the course.
Entry Requirements
To be accepted onto this Level 3 programme, you must hold at least five GCSEs at grade 4 or above, including GCSE Maths and English Language.
You will need a grade 5 or above in Spanish, or evidence of prowess to the equivalent standard. Email silvia.gonzalez@pteroc.ac.uk or claire.scott@petroc.ac.uk for more information.
Progression
You can use your skills to find employment in a wide range of areas, from banking to charity work. You could also study a combined degree in Spanish and your chosen subject, like International Relations, Computing or Business. Alternatively, you may study a Spanish degree, considering that language graduates have one of the lowest rates of unemployment among other graduates.
Facilities and resources
This course is taught by native speakers, so students can acquire correct pronunciation and get used to the pace of speech. Approximately 30% of your classes will take place in the modern language lab where you can improve your linguistic skills through the use of the latest language-learning technology. You will have access to authentic materials like press publications and audio/video recordings. You are also encouraged to access these from home via the internet. The library also receives press publications and has a stock of dictionaries, books and other materials you can use for your private study or homework.



Learning Technologies and Library Services offer relaxed, quiet and comfortable places to study. You will find a variety of private and group study spaces on campus and multiple computers that can be pre-booked. The college WiFi also allows you to bring your own devices to use.



There are always friendly members of staff on hand to help you find information to assist your study, and you can borrow items including books, journals and media equipment in the Library.
FAQs
Q; Is there a trip to Spain?

A: Yes, given enough interest from students, we try to organise a trip to a different destination in Spain each spring.



Q: I am doing GCSE foundation tier, can I still do A Level if I get a GCSE grade 4?

A: It is not recommended that you sit the foundation tier GCSE paper if you want to do an A Level, even if you pass, you will struggle to bridge the gap as the A Level is a step up from the higher tier GCSE level. It is best to sit the higher-tier papers. However, we can arrange for you to have a practical test by our own lecturer to assess your ability to be considered on the course.
Study Programme
Every full-time student at Petroc will have their own Study Programme which will include:

– Your academic or vocational qualification.

– Maths and English Language development – if you have not achieved GCSE grade 4 in either of these subjects.

– Work Experience – hours will vary depending on your qualification and course level.

– Tutor Support – to support your personal, academic and professional development.

– Sustainability – helping you to identify how you can improve the sustainability of your future employment sectors.

– Personal Development Awards – developing six key areas of personal and employability behaviours to prepare you for the working world.
Starting Date : 04/09/2023
Course Code : FTB038 (2023)
North Devon campus
Why Petroc should be your first choice
Petroc offers high quality education and training across North and Mid Devon. We provide outstanding learning, excellent facilities, strong connections to employers and a supportive environment to help you fulfil your education goals and set you on your path to the career of your dreams.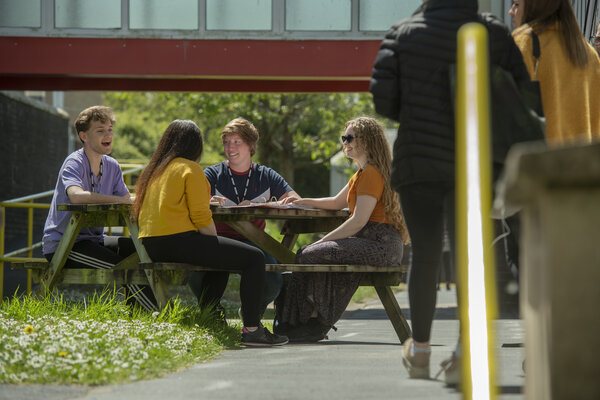 SUPPORTIVE
We offer a supportive and inclusive environment where you can flourish and feel a valued member of the college and wider community. 
INSPIRING
Our teaching spaces and facilities are some of the best in the region, providing stimulating and true-to-life learning environments. 
CONNECTED
We'll provide you with the experiences you need to be ready for employment or the next step on your educational journey.
You may also be interested in