For prestigious careers like medicine, veterinary science and pharmacy, a knowledge of Chemistry is essential.
This stimulating, practical A Level Chemistry programme builds on topics you will have covered at GCSE, and then takes you into new territories such as spectroscopy and the transition metals.
Topics in year one include:
– Atomic structure and bonding
– The periodic table
– Rates of reaction
Around a third of the qualification looks at organic (carbon-based) chemistry where you will investigate the reactions of different organic families such as alkenes and alcohols.
The second-year topics include:
– Aromatic compounds and amines
– Identifying mechanisms for chemical reactions
– Learning how to conduct characteristic tests for carbonyl compounds.
You'll find there is also more application of mathematical formulae in the second year, such as using logarithmic functions to determine pH, and use of spectroscopy in analysis of compounds.
Assessments
In addition to the theory, there is a strong practical element to the course. We will set you regular homework and end of topic tests to provide you, your teacher and your parents or guardians with feedback on your progress. We also give you exam paper packs and set you mock exams before the real thing.
Entry Requirements
To be accepted onto this Level 3 programme, you must hold at least five GCSEs at grade 4 or above, including GCSE Maths and English Language.
This must include a grade 6 in Chemistry, or grade 6 in both Core Science and Additional Science. Applied Science or Additional Applied Science will not be accepted as suitable alternatives.
Progression
Many of our students go on to university (including Oxford and Cambridge). A Level Chemistry is highly regarded and leads into a huge range of science-based degree courses from medicine to biochemistry and chemical engineering. It is also extremely useful if you want to study other sciences, especially Biology and Physics.
Facilities and resources
We are really proud of our superb chemistry facilities and resources. All of your lessons are taught in our modern, state-of-the-art labs. They have fully functioning fume cupboards that are used by students and these allow us to carry out experiments that you couldn't do at school.

Students have excellent access to IT, all labs have fully interactive Prowise boards and trolleys of wireless chromebooks which allow us to access the internet and college chemistry VLE website whenever we need to.

The chemistry VLE website is extremely well-resourced with lots of interactive revision aids, past exam papers and mark schemes, and interactive software that you can access from college or home. We teach the course through topics, and each topic has a work booklet that has been specifically written by the staff at the college to exactly match the exam board specifications. Students and parents frequently compliment us on the quality of our labs, VLE and work booklets.
FAQs
Q: Is A Level Chemistry hard?

A: Our pass rates are amongst the best in the country. As you can see from the student views above, some students do find the subject difficult but we give you lots of help and support and if you come with good GCSE grades and have the right attitude, then you will do really well.



Q: Do I really need grade 6 in GCSE Additional Science or Chemistry?

A: A Level Chemistry is more difficult than GCSE Chemistry or GCSE Science. Students with grade 5 in GCSE Science or Chemistry have passed the course in the past but they usually find it really tough. Grade 6 is the minimum we recommend to succeed.



Q: Do I need GCSE Maths?

A: You will need Maths GCSE at grade 5 or above. However, most of the maths in chemistry is very straight forward and we will remind you or teach you all the maths you need to succeed at this level.



Q: How big are the classes?

A: Most classes have 16 to 22 students in them.



Q: How much homework will I get?

A: Approximately three hours a week including revising for end of topic tests but this varies from week to week.



Q: Is it an interesting course?

A: Most students tell us that the course is really interesting and many say that it is the most interesting course they do at college. The course is very practical and we spend a lot of the time looking at how and why things happen so you really start to understand chemistry rather than just learning a set of facts.
Study Programme
Every full-time student at Petroc will have their own Study Programme which will include:

– Your academic or vocational qualification.

– Maths and English Language development – if you have not achieved GCSE grade 4 in either of these subjects.

– Work Experience – hours will vary depending on your qualification and course level.

– Tutor Support – to support your personal, academic and professional development.

– Sustainability – helping you to identify how you can improve the sustainability of your future employment sectors.

– Personal Development Awards – developing six key areas of personal and employability behaviours to prepare you for the working world.
Starting Date : 08/09/2023
Course Code : FTB005 (2023)
North Devon campus
Starting Date : 09/09/2024
Course Code : FTB005 (2024)
North Devon campus
Why Petroc should be your first choice
Petroc offers high quality education and training across North and Mid Devon. We provide outstanding learning, excellent facilities, strong connections to employers and a supportive environment to help you fulfil your education goals and set you on your path to the career of your dreams.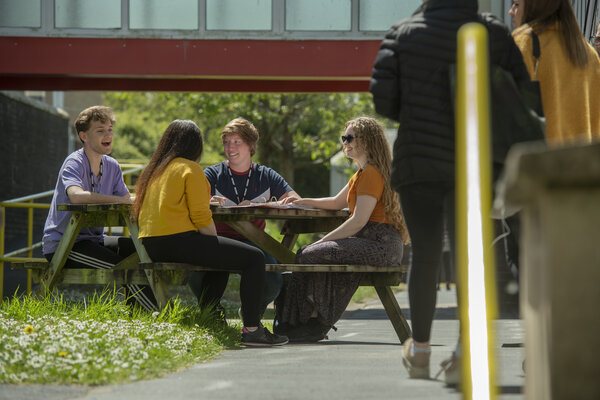 SUPPORTIVE
We offer a supportive and inclusive environment where you can flourish and feel a valued member of the college and wider community. 
INSPIRING
Our teaching spaces and facilities are some of the best in the region, providing stimulating and true-to-life learning environments. 
CONNECTED
We'll provide you with the experiences you need to be ready for employment or the next step on your educational journey.
You may also be interested in