Economics is a vibrant, exciting and relevant subject opening the door to numerous, well-rewarded career opportunities. It offers a contemporary course that relates economic theories to today's problems and challenges such as globalisation and its effects on the UK in terms of jobs and migration, and issues facing individual business such as marketing and management.
Economics is about choice and the impact of our choices on each other. It relates to every aspect of our lives, from the decisions we make as individuals to the structures created by governments and firms. An economic way of thinking can help you make better choices!
During the first year of the Economics A Level course, you will be introduced to the nature of economics, how markets work and why they fail, consumer choices and enterprise in the economy. You will also consider the role of banks, and life in a global economy.
During the second year, you will explore the impact of globalisation on consumers, firms and the labour market. You will also investigate the role of the government and have an opportunity to consider the role and impact of the financial sector.
Assessments
In the first year, students will study two themes: markets, consumers and firms and then the wider economic environment.

In the second year, two further themes are studied: making markets work and the global economy.

All four themes covered over the two-year course are assessed at the end of the second year by way of three externally assessed examinations, each two hours long.
Entry Requirements
To be accepted onto this Level 3 programme, you must hold at least five GCSEs at grade 4 or above. This must include a grade 5 or above in Maths and English Language.
Progression
Studying economics will help you develop transferrable skills that will prepare you for studying at university or moving into the world of work; these include data interpretation and essay writing. Suitable Higher Education courses include economics degrees or degrees in applied economics such as environmental economics, labour economics, public sector economics or monetary economics.

You might decide on a more business-related path and choose to study business economics, international business, business and management or finance degrees. In terms of degrees, economics students can follow a wide range of careers in industry, commerce, finance and the civil service. You might choose a career in sales, banking, product management or general management
Facilities and resources
All of your lessons will be taught in classrooms that have been recently modernised and include interactive whiteboards. You will have access to computer rooms when required and laptops. We have a well-stocked library with a wide range of books and periodicals as well as extensive online resources.
FAQs
Q: What other A Level subjects complement this subject?

A: History, Geography, Environmental Studies, Law, Government and Politics, and Sociology all fit well.



Q: How much extra work is involved?

A: You will be set homework on a regular basis which may be reading, research or a piece of written work to hand in for assessment. You will be expected to develop an interest in current events and have an opinion on the issues which affect our lives.



Q: How will I develop this knowledge?

A: You should watch a news bulletin every day, read a quality newspaper and watch relevant television programmes, e.g. The Apprentice or Dragons Den. You can also have a wider look at how the world of business affects your own interests, e.g. the business of football or fashion. You can think about the impact that goods and services you buy/consume have on the environment and the global economy, and the effects on other people's lives. Practical examples can be gathered from a part-time job or by talking to your parents or relatives about their work and experiences.



Q: Is there lots of maths in the course?

A: As long as you are happy punching numbers on a calculator and can interpret line graphs, then no.



Q: Are any trips planned during the course?

A: Yes, if there is a good enough response we will visit Berlin.
Study Programme
Every full-time student at Petroc will have their own Study Programme which will include:

– Your academic or vocational qualification.

– Maths and English Language development – if you have not achieved GCSE grade 4 in either of these subjects.

– Work Experience – hours will vary depending on your qualification and course level.

– Tutor Support – to support your personal, academic and professional development.

– Sustainability – helping you to identify how you can improve the sustainability of your future employment sectors.

– Personal Development Awards – developing six key areas of personal and employability behaviours to prepare you for the working world.
Starting Date : 08/09/2023
Course Code : FTB010 (2023)
North Devon campus
Starting Date : 09/09/2024
Course Code : FTB010 (2024)
North Devon campus
Why Petroc should be your first choice
Petroc offers high quality education and training across North and Mid Devon. We provide outstanding learning, excellent facilities, strong connections to employers and a supportive environment to help you fulfil your education goals and set you on your path to the career of your dreams.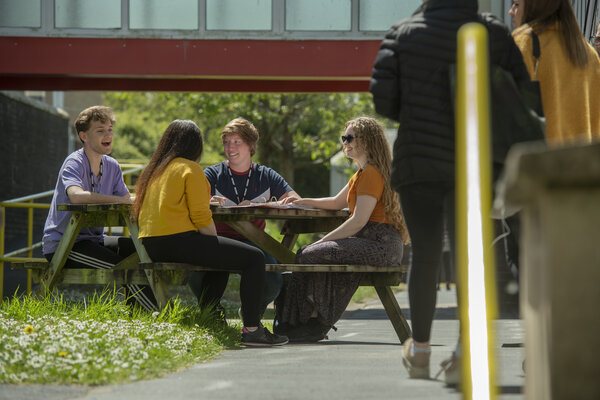 SUPPORTIVE
We offer a supportive and inclusive environment where you can flourish and feel a valued member of the college and wider community. 
INSPIRING
Our teaching spaces and facilities are some of the best in the region, providing stimulating and true-to-life learning environments. 
CONNECTED
We'll provide you with the experiences you need to be ready for employment or the next step on your educational journey.
You may also be interested in