Are you interested in exploring how the English language actually works and how people manipulate and master it? Have you ever wondered how a baby learns to talk? Do men and women really talk differently because of their gender? On this English Language A Level course, you'll explore these questions, analyse texts, develop your opinions on linguistic topics and write your own articles.
English Language gets you thinking about the choices every author and speaker makes about the language they use every day to appeal to their audience and to fit their purpose. You'll study a wide range of texts from webpages and forums to speeches, adverts and articles; and learn how to analyse them.
You will also investigate and evaluate English, looking at wide-ranging topics like gender, accent, child language acquisition and language change, and using current research and linguistic theories to discuss and explore the issues.
During the two years, you will study language in a wide range of texts, fiction and non-fiction, old and new; learning how to analyse and comment on them and to create texts of your own to match an audience. You will also consider the many variations and diversity (historical and social) found within the language.
During your first year, you will study interesting language topics such as language and gender, language and occupation, and language and age. You will be looking initially at idiolects, sociolects, dialects and accents and how the search for identity shapes the way we speak. Then you will begin to consider how other factors like society, work and prejudice can all play a part to shape our language.
In your second year, you will study texts across time and how the English Language has developed, and in addition, how children acquire language. For example, is it innate, or must we as adults help guide and nurture children? You will also do your own language investigation, analysing your chosen topic in detail and create an original piece of writing either to inform, persuade or to tell a story – the choice is yours.
Students enjoy the variety of this course and the opportunity to explore their own writing interests. This is a course which appeals to students who are interested in contemporary ideas about how our language works. English Language is a subject which complements many other A Level subjects as it will improve your skills in analysing texts, communicating ideas and expressing your point of view, so it sits well with subjects like Literature, Law, Classics, History and Psychology.
Assessments
At Petroc, you will be assessed on your progress at regular intervals throughout both academic years by a variety of methods: giving presentations, tests, essays, creative pieces and text analysis. We also hold mock exams each year and try to make them as realistic and as close to the actual exams as possible.



In the final year, the A Level is assessed by two exams in the summer term and a coursework portfolio. Paper one is entitled 'Language the Individual and Society' and consists of text analysis and a choice of essay question on child language acquisition. Paper two is entitled 'Language Diversity and Change' and consists of an essay on either diversity or change followed by a text analysis and a directed creative task. Both the exams are worth 40% each. The non-exam assessment is entitled 'Language in Action' consisting of your own investigation, a piece of original writing and a commentary which is worth 20%.
Entry Requirements
To be accepted onto a Level 3 programme, you must hold at least five GCSEs at grade 4 or above, including GCSE Maths and English language.
You will be required to achieve grade 5 in English Language and four other grade 4s including Maths.
Progression
An A Level in English Language is invaluable if you are considering teaching, the media or journalism, and it gives you all kinds of excellent transferable skills to take to Higher Education courses and the workplace, for example, careers in the civil service, the police, the diplomatic corps or central government. It can also be the stepping stone to a career in writing of all different genres.



Many of our students go on to study other disciplines at university level that depend upon a good grasp of the English Language, like Law, and they have found their time at Petroc invaluable to their ultimate studies as it has helped them organise and shape their essays and dissertations with confidence and direction.
Facilities and resources
Our classrooms include interactive whiteboards and you will have access to computer rooms or laptops. At Petroc, we have an intranet called 'Moodle', on that, there are many resources that you can tap into including articles on relevant topics, useful PowerPoints and aide memoires to refresh your memory. We also have a subscription to E-magazine, an online resource purely for English students with interviews and articles; students can log on to get a monthly magazine sent direct to their own inbox.



Our library has recently been updated with some brand new titles just for English Language students including 'A Little Book of Language', 'You Say Potato' and 'The History of the English Language in 100 words'; so you can enhance your understanding by reading these great titles.



Learning Technologies and Library Services offer relaxed, quiet and comfortable places to study. You will find a variety of private and group study spaces on campus and multiple computers that can be pre-booked. The college WiFi also allows you to bring your own devices to use.



There are always friendly members of staff on hand to help you find information to assist your study, and you can borrow items including books, journals and media equipment in the Library.
FAQs
Q: Should I do English Language or English Literature?

A: It depends on your interests and whether you wish to study English at university. English Literature is best for those who enjoy reading and discussing poetry, Shakespeare and novels, and who wish to study Literature at HE level. English Language is looking at how language works and why people use language in the way they do, rather than set literary texts. For those who have a keen interest in doing English at a higher level, or simply enjoy both analysing literature and language in society, maybe you should consider doing both Language and Literature A Levels as two full subjects. English Language is preferred by universities if you are considering a career in teaching, but studying both literature and language enhances your general understanding of the language and of the texts themselves.



Q: What is the difference between English Language and English Literature?

A: Literature focuses on particular set texts, their form, language, narration, characterisation and the context surrounding those texts, whereas language focuses on wider concepts and ideas that can affect all literature and speech that can be applied to any unseen texts.



Q: What is the difference between English Language at GCSE and English Language at A Level?

A: The A Level builds upon the GCSE, but you will learn a lot of new terms and deal with aspects of language not considered at GCSE level like accents and dialects, so that you can analyse in depth. There is a lot of discussion and debate upon theories put forward by various linguists. As one student put it 'The level of knowledge is very different'.



Q: What other subjects sit best with English Language?

A: In the past, students were often studying Law, History, Classics or English Literature, and this is still true, but now many students find that it also sits well with Sociology or Psychology because there is some overlap in topics concerning the pressures of society on the way we speak and write and the theories behind them. However, because English Language can help every student with writing and analytical skills, it can – and often does – sit with science subjects or creative ones just as well.



Q: Do we get to do our own writing of creative pieces?

A: Yes you do, but it is not a creative writing course. There are elements of creativity in the first year exam where you are required to create an article, for example, as a directed task on a set theme, so some time will be given to this but it is about a topic on the course. You will also be asked to create and present presentations in groups or pairs on certain topics, for example, a famous speech or a dialect that you have studied in depth. However, the emphasis is on learning how and why we speak and write as we do. There is a little more scope for creativity in the second year where you can select a topic to investigate in-depth and create an original piece of writing for your coursework portfolio.
Study Programme
Every full-time student at Petroc will have their own Study Programme which will include:

– Your academic or vocational qualification.

– Maths and English Language development – if you have not achieved GCSE grade 4 in either of these subjects.

– Work Experience – hours will vary depending on your qualification and course level.

– Tutor Support – to support your personal, academic and professional development.

– Sustainability – helping you to identify how you can improve the sustainability of your future employment sectors.

– Personal Development Awards – developing six key areas of personal and employability behaviours to prepare you for the working world.
Starting Date : 04/09/2023
Course Code : FTB012 (2023)
North Devon campus
Why Petroc should be your first choice
Petroc offers high quality education and training across North and Mid Devon. We provide outstanding learning, excellent facilities, strong connections to employers and a supportive environment to help you fulfil your education goals and set you on your path to the career of your dreams.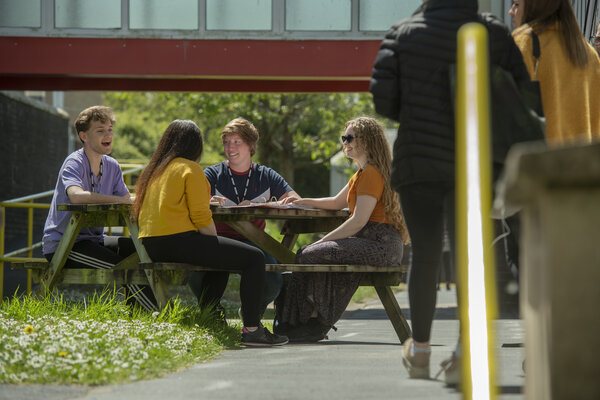 SUPPORTIVE
We offer a supportive and inclusive environment where you can flourish and feel a valued member of the college and wider community. 
INSPIRING
Our teaching spaces and facilities are some of the best in the region, providing stimulating and true-to-life learning environments. 
CONNECTED
We'll provide you with the experiences you need to be ready for employment or the next step on your educational journey.
You may also be interested in