Student feedback on Psychology at Petroc continually features one word; 'Fascinating!'.
The nature of studying ourselves and other people is incredibly interesting; what makes us think, feel and behave? How can we scientifically study disorders and brain-damaged individuals to help us understand all of our behaviours? Can we use psychology to catch criminals? Or to prevent them from offending? This Psychology A Level examines many theories that try to explain human behaviour. Psychologists conduct experiments to create theories about why these and every other aspect of human behaviour happens.
During the course, we study introductory topics in psychology including social influence – why you might do things because your friends do or because someone in authority tells you to; memory – how different types of memories are formed and how the police can question witnesses better; and attachment (how you're raised) – working out that you might be able to blame your parents for any faults you may have today!
We also study psychopathology (abnormal behaviour) – how psychological disorders such as depression can be explained, understood and treated – and students are introduced to different psychological approaches ranging from biological psychology to social learning theory.
Once you have been introduced to a broad range of psychological theories and approaches you will move on to cover a smaller range of fascinating topics in greater detail including the study of social relationships, schizophrenia and criminal/forensic psychology, which means that by the end of the course you will have a thorough understanding of all aspects of the subject and be brilliantly equipped to move onto the next stage of your education or career.
Topics covered throughout the two-year course:
– Cognitive psychology, including memory and eyewitness testimony.
– Developmental psychology, including early social development, attachment in animals and the influence of our early attachments on later relationships.
– Psychopathology, including understanding and treating disorders like depression, phobias and OCD.
– Social psychology, including conformity, obedience and independent behaviour.
– Attraction and relationships – How relationships form, are maintained and how they break up. How are romantic relationships changing in our modern world?
– Schizophrenia – A detailed look at this fascinating disorder. What causes the hallucinations? What are the most effective treatments?
– Forensic psychology – How can psychological profiling help catch criminals? What are the best ways to treat offenders so they don't offend again? What are the psychological consequences of prison?
Throughout the course, you will be involved in discussions, debates, presentations, problem-solving and group work.
Assessments
Assessment is mainly using shorter-answer questions, with several mini-essays across three papers. You will have an opportunity to complete your own practical research projects throughout the course to help develop your understanding of psychological research. There is an emphasis on 'doing' psychology – you will be encouraged to observe, question and analyse the world around you every day! The highly structured sessions all include regular assessments to help you to maximise your potential in the subject. All are assessed in exams at the end of the course.
Entry Requirements
To be accepted onto a Level 3 programme, you must hold at least five GCSEs at grade 4 or above, including GCSE Maths and English language.
You will need to achieve grade 5 in Maths, English Language and either Biology or a grade 5 in both Core Science and Additional Science.
Progression
Psychology is certainly not a one-size-fits-all career choice and that is why it is so popular at A Level and at university. In fact, one of the greatest strengths of a psychology degree is the enormous variety of career paths that are available to people who study it. Once you have the knowledge and enthusiasm A Level Psychology provides, students can tailor their route through university and careers to focus on speciality areas that appeal to their interests. Some of these potential professions include:

– Forensic psychology

– Clinical psychology

– Sports psychology

– Health and medicine

– Child psychology

– Advertising and marketing

– Education and educational psychology



The demand for psychological services in places such as schools, prisons, hospitals, substance abuse treatment centres and social services agencies is expected to fuel the demand for trained professionals. Three job areas expected to be in high demand in the future are clinical psychology, educational psychology, and occupational psychology, as these areas are increasingly looking to psychologists to help them understand and improve people's lives and behaviour. No other subject spans the key career choices of business, science/medicine and social services like psychology and this led the Daily Telegraph to identify psychology in its top-ten of subjects to study at a higher level that will best prepare you for a fast and ever-changing economy.
Facilities and resources
As one of the largest A Levels in college, we have a large, highly qualified, specialist team of lecturers that deliver the subject right up to degree level. As a result, psychology is incredibly well resourced, both within the department and in the library and Learning Resource Centre (LRC). There is an extremely active online psychology community, using Twitter and our online learning environment (Moodle) to enhance and enrich your learning.
FAQs
Q: Is it difficult?

A: Well, yes, and no! It is no more difficult than any other A Level (if you are prepared to work hard!) and you will be given lots of support to help you reach the very highest grade possible.



Q: I have not done it at GCSE. Will this be a problem?

A: Not at all. Very few schools offer GCSE Psychology so we assume you have 'no previous knowledge'. This does not mean 'no previous interest' though and we like students with an open mind and a genuine interest in understanding human thought and behaviour.



Q: Will a qualification in Psychology be useful?

A: Yes! Even if you don't specialise in it such as being a sport psychologist or educational psychologist, you can go into therapy or counselling. It is a particularly useful subject for careers such as the police or medicine or any job that deals with people. Alternatively you may like it so much that you choose to teach it!



Q: Will I be able to read people's minds after studying Psychology?

A: No, it isn't going to teach you directly how to interpret other people's dreams or to know what they're thinking or be able to predict their behaviour. It will indirectly teach you what psychologists have found to be likely behaviours that are shown by people in certain situations. It also gives you many useful bits of information you can share at parties to seem interesting, such as why deja vu happens and why you might fall in love with people who remind you of your parents.
Study Programme
Every full-time student at Petroc will have their own Study Programme which will include:

– Your academic or vocational qualification.

– Maths and English Language development – if you have not achieved GCSE grade 4 in either of these subjects.

– Work Experience – hours will vary depending on your qualification and course level.

– Tutor Support – to support your personal, academic and professional development.

– Sustainability – helping you to identify how you can improve the sustainability of your future employment sectors.

– Personal Development Awards – developing six key areas of personal and employability behaviours to prepare you for the working world.
Starting Date : 04/09/2023
Course Code : FTB036 (2023)
North Devon campus
Why Petroc should be your first choice
Petroc offers high quality education and training across North and Mid Devon. We provide outstanding learning, excellent facilities, strong connections to employers and a supportive environment to help you fulfil your education goals and set you on your path to the career of your dreams.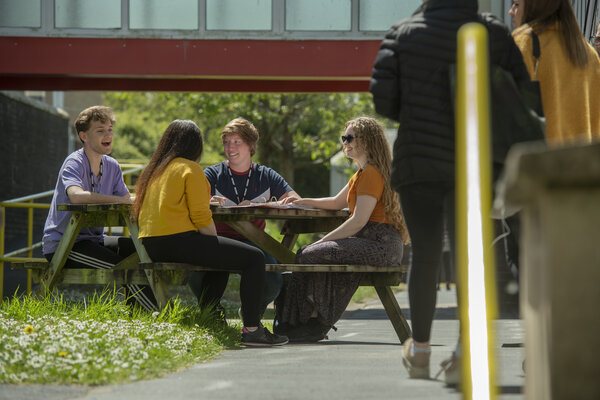 SUPPORTIVE
We offer a supportive and inclusive environment where you can flourish and feel a valued member of the college and wider community. 
INSPIRING
Our teaching spaces and facilities are some of the best in the region, providing stimulating and true-to-life learning environments. 
CONNECTED
We'll provide you with the experiences you need to be ready for employment or the next step on your educational journey.
You may also be interested in