Environmental Science A Level

Do you want to know how humans interact with their environment or how a finite world can supply a growing population? Environmental Science is a highly relevant and topical course where you'll learn to analyse real-world problems and learn how the study of science contributes to our understanding of the wider world.
This is a science A Level which combines geography with biology and aims to understand how humans interact with their environment, and the consequences and solutions of these actions. This course enhances knowledge regarding everything in the world around you.
You will study the following modules:
– The living and the physical environment
– Atmospheric pollution, water resources and supplying the world with building materials and metals
– The global effects of energy supply
– Farming, fishing and forestry
The course is supported by fieldwork, laboratory work and an overseas trip (which, in the past, has been to Iceland). You will also undertake local fieldwork (e.g. ecology of Croyde seashore) and day trips to Paignton Zoo. They enhance your understanding of research methods and conservation.
Assessments
All material covered for this A Level will be examined at the end of the two-year course. This will be two examinations in June. There is no coursework.



In addition, we will set you regular homework and end of topic tests to provide you, your teacher and your parents or guardians with feedback on your progress. We also give you exam papers and set you mock exams before the real thing. Revision classes can be provided to ensure that you are fully prepared for your summer exams.
Entry Requirements
To be accepted onto this Level 3 programme, you must hold at least five GCSEs at grade 4 or above, including GCSE Maths and English Language.
You will be required to achieve a grade 5 in two sciences or a grade 5 in both Core Science and Additional Science. You will also need a grade 5 in GCSE Maths.
Progression
Students on this course have gone on to study Higher Education courses in Environmental Science, Geography, Geology, Marine Biology, Veterinary Medicine, Medicine, Conservation, Ocean Science, Agriculture and Arboriculture. Environmental Science A Level is accepted by universities for entry on to a broad range of science degrees. Environmental Science graduates may work for The Environment Agency, nature conservation organisations, local government, education and private industry. Career opportunities keep growing, from wildlife conservationist to waste manager, hydrologist to resource manager.
Facilities and resources
Environmental Science makes use of textbooks, journals and newspaper articles. Increasingly current resources are sourced from the internet. Students have access to IT, all classrooms and labs have fully interactive smartboards and trolleys of wireless Chromebooks which allow us to access the internet and Petroc Environmental Science moodle webpage whenever we need to. The Environmental Science moodle site is extremely well resourced with lots of interactive revision aids, past exam papers and mark schemes, that you can access from college or home.
FAQs
Q: Is A Level Environmental Science difficult?

A: A Levels are challenging, and Environmental Science is no exception, but we give you lots of help and support and if you come with good GCSE grades and have the right attitude then you will do really well.



Q: Do I really need grade 5 in GCSE Additional Science?

A: Environmental Science is a science course, so you need to be able to understand and apply scientific concepts and terminology. Although the environmental concepts are usually straight forward, you must be able to apply scientific knowledge to succeed in this subject. It is more difficult than GCSE Science. Students with grade 5 in GCSE Science have passed the course in the past but they have to work extra hard.



Q: Do I need GCSE Maths?

A: You will need Maths GCSE at grade 5 or above. However, most of the maths in Environmental Science is applied to the subject and relatively straight forward; we will remind you or teach you all the maths you need to succeed at this level.



Q: How big are the classes?

A: Most classes have 14 to 22 students in them.



Q: How much homework will I get?

A: Usually 2-3 hours a week including revising for end of topic tests but this varies from week to week. You are expected to do additional reading/revision every week.



Q: Is there any coursework?

A: No, Environmental Science is 100% examination.



Q: Is there any practical work?

A: Most of the course is classroom based, but there is some practical work, in both the lab and in the field.



Q: Is it an interesting course?

A: Our students tell us that the course is really interesting and very applicable to the world we live in. If you want to understand how humans affect our environment and debate the possible solutions, then this is the course for you.
Study Programme
Every full-time student at Petroc will have their own Study Programme which will include:

– Your academic or vocational qualification.

– Maths and English Language development – if you have not achieved GCSE grade 4 in either of these subjects.

– Work Experience – hours will vary depending on your qualification and course level.

– Tutor Support – to support your personal, academic and professional development.

– Sustainability – helping you to identify how you can improve the sustainability of your future employment sectors.

– Personal Development Awards – developing six key areas of personal and employability behaviours to prepare you for the working world.
Starting Date : 09/09/2024
Course Code : FTB014 (2024)
North Devon campus
Why Petroc should be your first choice
Petroc offers high quality education and training across North and Mid Devon. We provide outstanding learning, excellent facilities, strong connections to employers and a supportive environment to help you fulfil your education goals and set you on your path to the career of your dreams.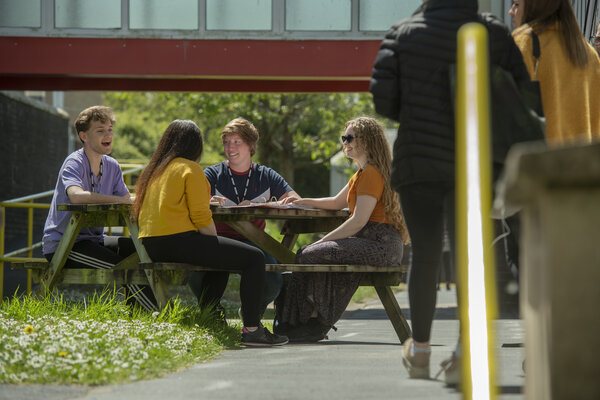 SUPPORTIVE
We offer a supportive and inclusive environment where you can flourish and feel a valued member of the college and wider community. 
INSPIRING
Our teaching spaces and facilities are some of the best in the region, providing stimulating and true-to-life learning environments. 
CONNECTED
We'll provide you with the experiences you need to be ready for employment or the next step on your educational journey.
You may also be interested in