Foundation Degree Healthcare Assistant Practitioner

Assistant Practitioners work as part of the wider health and social care team and have direct contact with patients, service users or clients providing high quality and compassionate care. They work at a level above that of Healthcare Support Workers and have a more in-depth understanding about factors that influence health and ill-health (e.g. anatomy and physiology).
This course, awarded by the University of Plymouth, consists of 12 subject modules, and each module has two assessed assignments.
First year (Level 4) modules include:
– Foundations of health and social care practice
– Concepts of health and wellbeing
– Human growth and development
– Vocational competence for health and social care practice
– Understanding practice
– The patient journey and care process
Second year (Level 5) consists of six modules – with four core modules:
– Evidence based practice
– Leadership and ethics in practice
– Clinical competence and patient assessment
– Public health and health promotion
Two optional modules are chosen at the start of the second year of study. Optional modules can be taken from the following:
– Long term conditions
– Dementia and cognitive dysfunction
– Tissue viability
– Practice based study
– Management of the plus size patient
– The allied health professions
– Understanding mental health
– Management and leadership in mental health
– Occupational studies: Foundations of occupational therapy practice 1
– Occupational studies: Foundations of occupational therapy practice 2
Select from the start date/s below…
Assessments
Within the 12 modules there are a wide range of assessments including academic essays, literature reviews, reflective case studies, presentations, work based concept fairs, debates, video productions, journal articles, information leaflets, portfolios etc. There will also be ongoing competencies to achieve during your two year programme of study within your placement which will be connected to the Foundation Degree Healthcare Assistant Practitioner.
Entry Requirements
Entry requirements for the FdSc Assistant Practitioner Apprenticeship programme of study will be the following:

– Level 3 QCF Health and Social Care or equivalent

– Level 2 GCSE grade C or above in both English and maths or equivalent Level 2 Functional Skills English and maths

– Care Certificate or equivalent (which is usually linked to time in practice with your organisation)

– If you are new to your NHS Trust you will complete your Care Certificate alongside your Assistant Practitioner programme (if applicable).

– The support of your manager

– A commitment to delivering compassionate, patient-focused care

– Petroc will assess your application to see if you meet their standards for literacy and numeracy


Those applicants who do not have the above qualifications and have a proven record of experience as a health and social care practitioner at the correct level and who can demonstrate relevant experience through portfolio plus an interview may be eligible to enter the award.
Progression
Upon successful completion of this FdSc and apprenticeship standard, you will have obtained the core skills, knowledge and values/behaviours to become an Assistant Practitioner. Progression after this course can include Level 6 BA Hons Professional Development (Health and Social Care), BSc Adult Nursing, BSc Adult Mental Health Nursing, BSc Physiotherapy, BSc Occupational Therapy.
Facilities and resources
You will have full access to the college facilities.
FAQs
Q: Do I have to be working within health and social care to be able to apply for this programme of study?

A: Desirable but not essential.



Q: If I work as a senior carer within a health and social care setting would I need to have a registered practitioner to mentor me whilst on the assistant practitioner programme?

A: Yes.



Q: How many hours of independent study will I have to undertake during my programme of study.

A: At Level 4/5 you will be expected to study between 15-25 hours per week. This will take into consideration reading, thinking and assignment preparation activity.



Q: If I don't have maths and English at Level 2 is there an opportunity to undertake these qualifications whilst on the course?

A: Yes – both maths and English can be studied whilst on the programme of study. Level 2 Functional Skills/GCSE maths and English must be successfully achieved by the end of the two year foundation degree and prior to undertaking your end-point assessment.



Q: Do I need a certain amount of experience within health and social care environment before I apply?

A: Yes – preferably you would have been working as a senior healthcare support worker for a number of years and would have gained a Level 3 health and social care qualification before applying.
Starting Date : 11/09/2023
Course Code : HEB146F / P123 (2023)
North Devon campus, Tiverton campus
Starting Date : 11/09/2023
Course Code : HET121F / P123 (2023)
North Devon campus, Tiverton campus
Why Petroc should be your first choice
Petroc offers high quality education and training across North and Mid Devon. We provide outstanding learning, excellent facilities, strong connections to employers and a supportive environment to help you fulfil your education goals and set you on your path to the career of your dreams.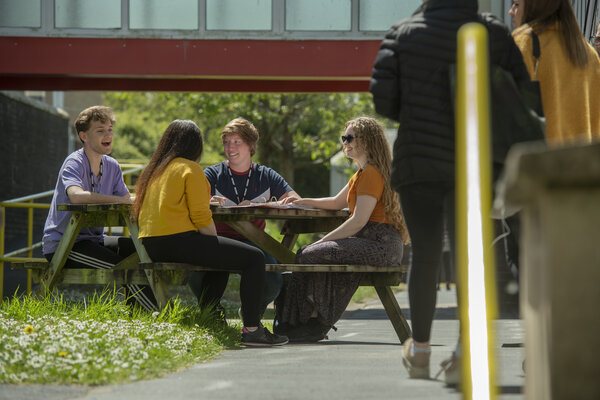 SUPPORTIVE
We offer a supportive and inclusive environment where you can flourish and feel a valued member of the college and wider community. 
INSPIRING
Our teaching spaces and facilities are some of the best in the region, providing stimulating and true-to-life learning environments. 
CONNECTED
We'll provide you with the experiences you need to be ready for employment or the next step on your educational journey.
You may also be interested in