BA (Hons) Professional Development (Childhood Studies)

A degree tells employers your capacity for research, problem-solving, critical thinking and communication skills are at an advanced level. It is the start of your career. Our honours degree programmes, enable you to apply for graduate roles, to develop your own business, or go on to postgraduate study, qualifying in a range of professions.
The BA (Hons) Professional Development (Childhood Studies) is designed for current and future practitioners in child health and welfare. It builds your knowledge of children's development and gives you the skills to be a better practitioner with innovative approaches to supporting your learning.
The course content explores the range of subjects fundamental to an understanding of children's development in society and how policy and professional interventions contribute to better outcomes for children.
You will begin by studying developmental psychology and how a child's early years form an understanding of themselves and their world. You will look also at sociology and related early years research to consider the context for childhood study and practice.
In understanding how society responds to the needs of children, you will study the development of social policy and review the issues and approaches to managing children's welfare.
A particular focus of the honours programme is the research and submission of a detailed dissertation on your choice of subject from a range of challenging contemporary concepts in childhood studies. It is a test of your ability in a team to devise and carry out a project relating to a work situation, documenting your learning and its application. Further study will enable you to focus in detail on your chosen subject area helping you advance your learning and define a specialist path.
Select from the start date/s below…
Assessments
There are no exams in this course, but a range of assessment methods, relevant to the topics and themes studied, are employed throughout the course.
Entry Requirements
For application to this final level of study – the 'top up' year for the BA (Hons) Professional Development – students need to have completed the FdA Early Childhood Studies, Teaching and Learning, Early Years Practice, or a close equivalent.


Whilst having a GCSE at grade 5/4 or above in Maths, English and a Science is not necessarily a requirement of entry onto the Foundation Degree, it should be noted that without these qualifications you may not be eligible to proceed to post-graduate and teacher training study, or count towards allowable ratios in your Early Years classroom or nursery setting. Further information can be obtained here: http://www.education.gov.uk/eypqd/GCSEs.shtml


Petroc offers a range of options for learners to study towards GCSEs, some of which may be appropriate alongside degree study.
Progression
A degree prepares you for graduate entry to many roles in the sector. At present, this programme is the highest level qualification offered by Petroc. You could take up post-graduate programmes such as MA, MBA and PhD study at a range of UK universities.
FAQs
Q: How much will this course cost?

A: For more information about course fees, please visit www.petroc.ac.uk/hefees



Q: Do I need to be working with children?

A: Not necessarily – but you will need to be eligible to work with children (provide a DBS certificate or undertake one with support) and undertake work experience in a relevant field during the Foundation Degree. This could include your current job role, and can be discussed at interview.



Q: Will this qualify me to be a teacher?

A: Successful completion of your Honours degree may mean you are eligible for post-graduate teacher training in Early Years or primary via the PGCE, SCITT, or other teacher-training programmes. This is dependent on achievement and other experience and qualifications.



Q: Will this course qualify me to be a Nursery Nurse instead of the Level 3 qualification?

A: No, this is an academic degree and in order to be recognised in the ratios for your setting, you will probably still need the L3 qualification and potentially Maths/English GCSE results. Talk to one of the team about how you can address this if you do not already hold a childcare qualification and need one in addition to this degree.



Q: Will this degree qualify me to do social work or midwifery?

A: The Foundation Degree and full Honours degree can be a route into post-graduate study towards qualification as a social worker. Other nursing or midwifery qualifications do not take the same route, but this Foundation or Honours degree could lead to opportunities in related fields, depending on other qualifications and experience.



Q: Is there funding for this course?

A: For most people, yes. Student Finance can answer queries about tuition fee loans and grants and bursaries to pay for living expenses and childcare. If you need support with this, please contact our Admin office on 01271 852335.
As this course requires you to undertake work placements with children and/or vulnerable adults, a DBS check is required. Please note: If you are only applying for a degree course at Petroc, you can do so through our website. If you are applying to more than one college or university, then you are required to apply via the UCAS application system
Starting Date : 09/09/2024
Course Code : HEB001F / CLX2 (2024)
North Devon Campus
Starting Date : 09/09/2024
Course Code : HEB001P (2024)
North Devon Campus
Why Petroc should be your first choice
Petroc offers high quality education and training across North and Mid Devon. We provide outstanding learning, excellent facilities, strong connections to employers and a supportive environment to help you fulfil your education goals and set you on your path to the career of your dreams.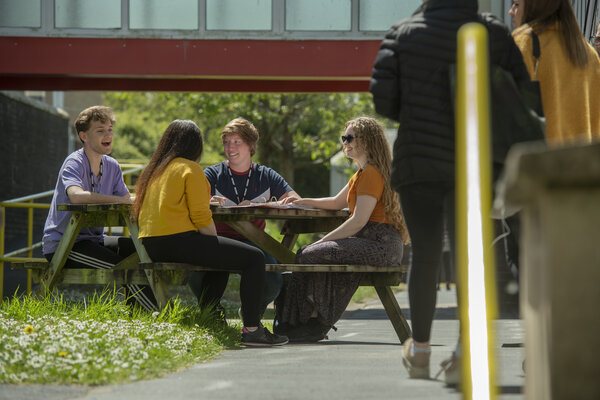 SUPPORTIVE
We offer a supportive and inclusive environment where you can flourish and feel a valued member of the college and wider community. 
INSPIRING
Our teaching spaces and facilities are some of the best in the region, providing stimulating and true-to-life learning environments. 
CONNECTED
We'll provide you with the experiences you need to be ready for employment or the next step on your educational journey.
You may also be interested in