Foundation Degree Early Childhood Studies

Our foundation degrees, in partnership with the University of Plymouth, are equivalent to studying for the first two years of an honours degree, but unlike traditional degrees, there are no formal entry requirements. Created in collaboration with employers, they combine academic study with developing the skills and attributes needed in the workplace. It makes them ideal preparation for a specific profession or industry or for making progress in your existing career. You can always convert to a full honours degree by taking a top-up course on completion.
This well-established and successful course offers highly contemporary perspectives on early childhood studies, to develop your skills and your career in early education and care.
SSTAR teaching and learning award winners 2015-2018, the team provides a hardworking and committed learning environment which benefits students and the children we work with.
There are 12 modules over the two years, beginning with developing the professional and interpersonal skills required to practice. The course explores young children's welfare and wellbeing and how this relates to policy and provision in the UK. You then look at wider international perspectives on children's education and wider still at psychology and theories of learning and development.
In the second year, you begin to look in greater depth at different perspectives on childhood
And learn how researching childhood can reveal new ideas and approaches.
On a practical level, you learn about multi-agency working, about children's spaces (including outdoor play, play design and forest school), health and physical wellbeing, and the issues affecting children's social and emotional development.
This course covers a lot of ground, developing knowledge of psychology, sociology, and the holistic development of children. There is also scope to specialise in areas that interest you and could form the focus of career professional development.
It's an engaging course too, featuring collaborative and independent study, trips and events with the University, and inspiring lecturers and guest speakers who will support your learning and challenge your thinking in a progressive learning environment.
Select from the start date/s below…
Assessments
There are no exams on the foundation year and the foundation degree; instead, you will be assessed using a range of methods throughout the academic year.
Entry Requirements
Entry is welcomed from mature learners, those with sector experience, and those who have taken non-traditional paths through education. A Levels or vocational qualifications (48 UCAS tariff points) or substantial and relevant work experience in an appropriate sector is also considered. Entry is welcome from mature students with relevant experience in place of these qualifications.

Appropriate subject areas will normally be in the discipline of children's care and development, education, psychology, sociology, health and social care, and related subjects, however qualifications in other subjects may be considered and discussed at interview. If you do not have the relevant GCSE grades, you may still be considered if you plan to undertake further study towards those qualifications.
Progression
When you complete the foundation degree, you can top-up your studies to the BA (Hons) Early Childhood Studies, BA (Hons) Education, or the BA (Hons) Professional Development (Childhood Studies). Flexible distance learning is also available under the FLECS system via the University of Plymouth.
FAQs
Q: How much will this course cost?

A: For more information about course fees, please visit www.petroc.ac.uk/hefees



Q: Do I need to be working with children?

A: No – but you will need to be eligible to work with children (provide a DBS certificate) and find a work placement in a relevant field during the Foundation Degree.



Q: Is there a work placement?

A: Yes, you should have one day a week in a related voluntary or paid role. All students need to complete 50 hours work-based learning as a minimum – we advise more to improve skills and employability. These placements can be flexible and arranged to suit your future plans and goals.



Q: Will this qualify me to be a teacher?

A: This foundation degree can be extended into an honours degree via four progression routes. Successful completion of that final year may mean you are eligible for post-graduate teacher training in the Early Years or Primary via the PGCE, SCITT or other teacher-training programmes. This is dependent on achievement and other experience and qualifications. Many of our students go on to qualify as primary school teachers.



Q: Will this course qualify me to be a Nursery Nurse instead of the Level 3 qualification?

A: No, this is an academic degree and in order to be recognised in the ratios for your setting, you will probably still need the Level 3 qualification and potentially Maths/English GCSE results. Talk to one of the team about how you can address this if you do not already hold a childcare qualification and need one in addition to this degree.



Q: Will this degree qualify me to do social work or midwifery?

A: The foundation degree and full honours degree can be a route into postgraduate study towards a qualification as a social worker. Other nursing or midwifery qualifications do not take the same route, but this Foundation or Honours Degree could lead to opportunities in related fields, depending on other qualifications and experience.



Q: Is there funding for this course?

A: For most people, yes. For more information, please contact our Advice & Guidance Team.
As this course requires you to undertake work placements with children and/or vulnerable adults, a DBS check is required. Please note: If you are only applying for a degree course at Petroc, you can do so through our website. If you are applying to more than one college or university, then you are required to apply via the UCAS application system
Starting Date : 09/09/2024
Course Code : HEB008F / CLX0 (2024)
North Devon campus
Starting Date : 09/09/2024
Course Code : HEB008P (2024)
North Devon campus
Why Petroc should be your first choice
Petroc offers high quality education and training across North and Mid Devon. We provide outstanding learning, excellent facilities, strong connections to employers and a supportive environment to help you fulfil your education goals and set you on your path to the career of your dreams.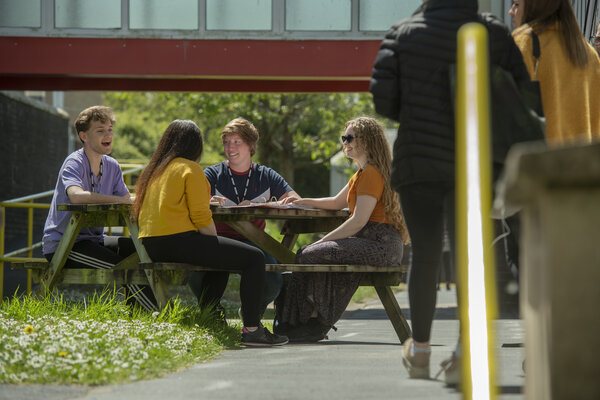 SUPPORTIVE
We offer a supportive and inclusive environment where you can flourish and feel a valued member of the college and wider community. 
INSPIRING
Our teaching spaces and facilities are some of the best in the region, providing stimulating and true-to-life learning environments. 
CONNECTED
We'll provide you with the experiences you need to be ready for employment or the next step on your educational journey.
You may also be interested in