BA (Hons) Professional Development (Health and Social Care)

A degree tells employers your capacity for research, problem-solving, critical thinking and communication skills are at an advanced level. It is the start of your career. Our honours degree programmes, enable you to apply for graduate roles, to develop your own business, or go on to postgraduate study, qualifying in a range of professions.
This is a course designed to lead toward professional practice in the health and social care sector. It is a starting point in the sector for new entrants to a career and is equally appropriate for existing employees wishing to advance their knowledge or explore a new specialist subject.
The course content develops comprehensive knowledge and a critical understanding of key health and social care concepts and services. Looking at contemporary provision in meeting the challenges of a changing society it will aid the development of innovative practice in a professional environment.
Through the programme you will investigate a wide range of current and thought-provoking health and social care issues, providing a background to your work in the sector. Through work experience you will also be developing your practice-based skills alongside health and social care practitioners in the workplace and in our distinguished care academy.
You can develop your specialist interests in this wide and expanding field, studying conceptual elements of health and social care in more depth, leading to a dissertation on your choice of area of professional practice.
Select from the start date/s below…
Sep 2023 : North Devon : Full-time
Cost : * Annual Fee £9250
North Devon campus
Sep 2023 : North Devon : Part-time
Cost : * Annual Fee £4625
North Devon campus
Sep 2024 : North Devon : Part-time
Assessments
There are no formal examinations in this course, but your progress is tracked using a range of coursework assessments including: seminars, reports, presentations, essays, academic posters, journal articles, academic scrapbooks, academic scrolls and concept fairs.
Entry Requirements
Five GCSEs (or equivalent) at grade 5/4 or above, or equivalent, including English Language and Mathematics, plus one of the following:

A Levels (120 UCAS points), or equivalent vocational qualification, substantial work experience in the health and social care environment, or recent academic study at Level 3.


Entry is welcomed from mature students with relevant experience in place of these qualifications, they may also have the opportunity to retake Maths and/or English GCSE whilst on the Foundation Degree. Speak to our Advice and Guidance specialists or the Programme Manager if you have different qualifications, or results pending as you may still be eligible.


For application to the final level of study – the 'top up' year for the BA (Hons) Professional Development – learners need to have completed the FdSc Health and Social Care or a close equivalent at foundation degree level, or Level 5.
Progression
There are no higher level qualifications offered by Petroc in this field, but post-graduate programmes at other universities such as MA in Social Work with the University of Plymouth, MBA, Step Up to Social Work, or PhD study could be considered.
Facilities and resources
You will be studying at the University Centre on our Brannams campus. As a dedicated higher education facility, it supports your study with learning resources, library and journals, and IT resources. You can also use any of the resources available at the University of Plymouth, inlcuing online ordering for books to be delivered to Brannams. The learning resources area is staffed by a dedicated HE team. As well as these facilities, we have a time-based experimental room, print-making facilities and light, spacious studios.
FAQs
Q: How much will this course cost?

A: For more information about course fees, please visit www.petroc.ac.uk/hefees



Q: What career opportunities does this course provide?

A: The purpose of this academic award is to enable individuals to progress into a variety of different fields (non-qualified health and social care practitioner fields with no clinical competences attached), such as manager of a care home, nursing home or residential home; youth support work; third sector support work; managers in areas such as Black and Minority Ethnic support services, or alcohol and drug third sector support agencies; Learning Support Assistants; H&SC teachers in schools and colleges; dementia advisors for Alzheimer's Society or Dementia Friends; clinical support workers; healthcare assistants; support assistants for social workers; re-homing managers for refugees/asylum seekers; family centre/children's centre services; family support workers; and, counsellors.



In addition, the BA (Hons) Professional Development (Health and Social Care) programme enables individuals (once qualified) to consider post-graduate degrees which could, in their own right, lead to vocational practice within a wide range of H&SC professions. Furthermore, several Petroc Foundation and BA (Hons) Degree graduates have gone on to progress and apply to other undergraduate degrees; these include mental health nursing, primary school teaching and nursing. On achievement of a 2:1 grade profile, students are eligible to apply for the government Step Up to Social Work training programme. An important point to note here is that qualified practitioners enrol onto the BA Hons Professional Development (Health and Social Care) to expand and develop their own practice further.
As this course requires you to undertake work placements with children and/or vulnerable adults, a DBS check is required. Please note: If you are only applying for a degree course at Petroc, you can do so through our website. If you are applying to more than one college or university, then you are required to apply via the UCAS application system
Starting Date : 12/09/2023
Course Code : HEB027F / V763 (2023)
North Devon campus
Starting Date : 12/09/2023
Course Code : HEB027P (2023)
North Devon campus
Starting Date : 09/09/2024
Course Code : HEB027P (2024)
North Devon campus
Why Petroc should be your first choice
Petroc offers high quality education and training across North and Mid Devon. We provide outstanding learning, excellent facilities, strong connections to employers and a supportive environment to help you fulfil your education goals and set you on your path to the career of your dreams.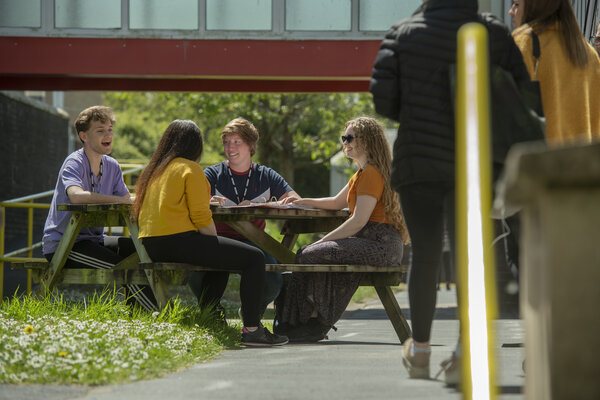 SUPPORTIVE
We offer a supportive and inclusive environment where you can flourish and feel a valued member of the college and wider community. 
INSPIRING
Our teaching spaces and facilities are some of the best in the region, providing stimulating and true-to-life learning environments. 
CONNECTED
We'll provide you with the experiences you need to be ready for employment or the next step on your educational journey.
You may also be interested in