Engineering, Manufacturing, Processing & Control T Level

T Levels combine core knowledge and skills needed to work in your chosen industry sector with a technical qualification, and a substantial work placement of at least 315-hours. Relevant English, mathematics and digital content are embedded in the programme of study. The content of the Engineering and Manufacturing T Level is designed to get you ready for a career in the engineering sector, one that is identified as having a significant and growing skills shortage.
T Levels combine hands-on practical tuition with traditional classroom teaching; ensuring you develop both the practical skills and theoretical knowledge required for your future career.
The Engineering, Manufacturing, Processing & Control T Level is made up of core units and an occupational specialism: Machining and Toolmaking.
The core content will focus on developing your knowledge, and understanding of concepts, theories and core skills related to Engineering and Manufacturing. The course has been designed by people who do the job and covers all relevant areas needed to help you become a competent, confident addition to the sector.
Core Component:
– Essential mathematics for engineering and manufacturing
– Essential science for engineering and manufacturing
– Materials and their properties
– Mechanical principles
– Electrical and electronic principles
– Mechatronics
– Working within the engineering and manufacturing sectors
– Engineering and manufacturing past, present, and future
– Engineering representations
– Engineering and manufacturing control systems
– Quality management
– Health and safety principles and coverage
– Business, commercial and financial awareness
– Professional responsibilities, attitudes, and behaviours
– Stock and asset management
– Continuous improvement
– Project and programme management
Occupational Specialism – Machining and Toolmaking:
The purpose of this specialism is for you to know and undertake a range of industrial processes and manufacturing techniques to manufacture and maintain the engineering tooling used to produce components, products and assemblies. This requires the application of a broad range of activities including the interpretation of engineering drawings and technical instructions and the use of hand, machine and automated computer-controlled machine tools and measuring equipment.
You will develop your knowledge, understanding and skills in:
– Common materials structure, composition and properties.
– Special requirements for tools and fixtures for the manufacture of components.
– Requirements for tools and fixtures to aid the manufacture of new or changed components.
– How to set up, select and safely operate, the application of a range of hand tools, operating principles of a range of complex and often state-of-the-art workshop machinery.
– Analysis of data, documentation, tasks, projects and specifications.
– Producing products to specification using suitable methods and techniques.
– Undertaking preventative planned maintenance and checking for faults using fault diagnosis.
– Utilising project management and process improvement.
By enrolling on this course, you will become part of SWIoT (the South West Institute of Technology). SWIoT is a unique collaboration between Petroc and a number of prestigious higher and further education partners; designed to provide innovative technical education and deliver a skilled local workforce, economic growth, and prosperity to the South West.
Assessments
Assessment will be through an exam, an employer set project and assignments.
Entry Requirements
To be accepted onto this T Level programme, you must hold at least five GCSEs at grade 5 or above. This must include English and Maths.

If you have achieved a Merit in your Level 2 Diploma in Engineering (including a Merit in 202), you will be accepted onto this course as long as you also have grade 5 in Maths.
Progression
Successful completion of this course will provide you with the equivalent to three full A Levels, and the corresponding UCAS points will be awarded. This will enable you to progress to university on an engineering-related degree course. Alternatively, you could apply for an apprenticeship in a variety of engineering settings, or advance directly to employment.
Facilities and resources
This programme will be taught in our Engineering Centre of Excellence, which is a specialist training and assessment facility for engineering and manufacturing students. The centre contains high-tech CAD facilities, 3D printing, electronics design and assembly, a fabrication and welding workshop, CNC and manual machining, and a bench fitting workshop.

You will have access to specialist workshops, laboratories, and high-quality CAD applications installed on industry-standard computer systems.

The mechanical work is supported by a number of professional resources including a machine shop, welding and sheet metal workshops, and a well-equipped science laboratory with a range of industrial testing equipment.

The electrical, electronic, and digital technology studies are supported by computer-assisted learning and virtual instrumentation in two classrooms, and a practical workshop where soldering of surface mount devices (SMD), through hole plated (THP) technologies, assembly, and circuit testing can take place.
FAQs
Q: Is there an age restriction for T Levels?

A: Yes, T Levels are for learners aged 16-19.



Q: What can I do after I get my T Level in Engineering and Manufacture?

A: You can use your T Level to gain entry onto Petroc's FdSc in Engineering (provided you've achieved the requisite level of credits), or you can save up your earned UCAS points to put towards your university degree application.



Q: Will my lack of experience with IT and computer equipment be a problem?

A: The simple answer is no, it won't be a problem. We have an extremely helpful, accommodating, and experienced IT department that can get you started and answer any questions you may have. Remember, there are a lot of other learners in the same situation, so you won't be alone.



Q: What if my circumstances change and I need to seek employment, can I continue with my studies?

A: If your circumstances change once you have enrolled on the course, we can look at your particular situation and decide what your best option is. If your fees are already paid, then this shouldn't be a problem, and there's also the option of transferring to our part-time version of the course.
Study Programme
Every full-time student at Petroc will have their own Study Programme which will include:

– Your academic or vocational qualification.

– Maths and English Language development – if you have not achieved GCSE grade 4 in either of these subjects.

– Work Experience – hours will vary depending on your qualification and course level.

– Tutor Support – to support your personal, academic and professional development.

– Sustainability – helping you to identify how you can improve the sustainability of your future employment sectors.

– Personal Development Awards – developing six key areas of personal and employability behaviours to prepare you for the working world.
Starting Date : 09/09/2024
Course Code : FTB071 (2024)
North Devon campus
Why Petroc should be your first choice
Petroc offers high quality education and training across North and Mid Devon. We provide outstanding learning, excellent facilities, strong connections to employers and a supportive environment to help you fulfil your education goals and set you on your path to the career of your dreams.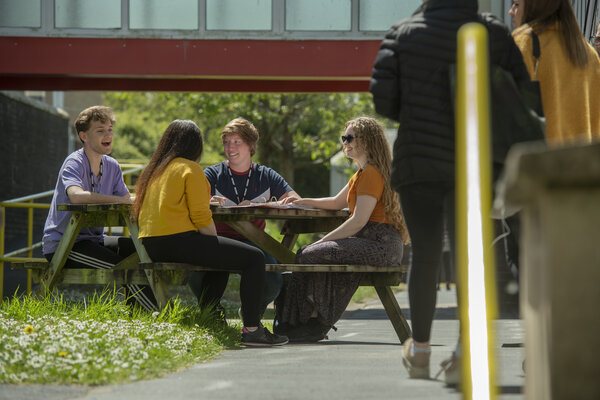 SUPPORTIVE
We offer a supportive and inclusive environment where you can flourish and feel a valued member of the college and wider community. 
INSPIRING
Our teaching spaces and facilities are some of the best in the region, providing stimulating and true-to-life learning environments. 
CONNECTED
We'll provide you with the experiences you need to be ready for employment or the next step on your educational journey.
You may also be interested in