Foundation Degree Human Biosciences

Our foundation degrees, in partnership with the University of Plymouth, are equivalent to studying for the first two years of an honours degree, but unlike traditional degrees, there are no formal entry requirements. Created in collaboration with employers, they combine academic study with developing the skills and attributes needed in the workplace. It makes them ideal preparation for a specific profession or industry or for making progress in your existing career. You can always convert to a full honours degree by taking a top-up course on completion.
The Human Biosciences Foundation Degree concerns the detailed study of human biology. As the course progresses you will deepen your knowledge, building towards a research project of your own. As a degree it could lead to a lab technician role or lab scientist in biomedical science, public health or food quality control. It is also excellent preparation for science teaching or health education.
The study begins with a mixture of theory, practical microscope work and case studies, by looking at human anatomy, and how the body is organized into systems, and later, physiology and the functions of organs. You will also consider how the body develops from conception to old age.
You will explore genetics and the characteristics of individuals and populations. Looking at the molecular level you will explore biochemistry, and how the chemical reactions required for human life are sustained.
Finally, microbiology reveals the diversity of microorganisms, their growth requirements, and clinical and industrial importance, considering the microbial world including bacteria, fungi, protists and viruses.
On a more academic level, you will acquire skills in statistics in a scientific context and apply those skills to testing scientific data. You will also study a research module in an appropriate experimental field, preceded by a literature review of the topic, addressing wider issues.
Throughout the course you will develop the qualities and transferable skills necessary for undergraduate academic work and employment. You will complete at least 50 hours of relevant work experience.
Assessments
Course assessment includes essays, presentations, laboratory reports and exams. Most modules have one coursework assessment during the year as well as a final exam. The coursework assessment is usually 60% of the final grade, and the exam 40%.
Entry Requirements
You will need 48 UCAS points for entry, usually from A Levels, BTEC or Access to Higher Education, in a relevant subject. Applicants will need evidence of academic attainment at Level 3 (A Levels, BTEC or Access to Higher Education) in relevant subjects. GCSE English and Mathematics at grade 5/4 or above are essential. Mature applicants will also be considered based on their relevant experience and knowledge.
Progression
Most graduates of this course progress to the third year of the BSc (Hons) Human Biosciences degree at The University of Plymouth. You could alternatively apply for further study in medicine, dentistry or veterinary science. If you decide not to study further, you could apply for work in labs concerned with biomedical science, public health, the pharmaceutical industry or food quality control. Some graduates pursue careers in teaching or health education.
FAQs
Q: How much will this course cost?

A: For more information about course fees, please visit www.petroc.ac.uk/hefees



Q: How do I apply?

A: Please apply through our website if you are only applying to Petroc. If you are also applying for places at other universities, then you should apply through UCAS. If you require further information about our Human Biosciences Foundation Degree course, contact Dr. Lin Rolfe (Programme Manager) at lin.rolfe@petroc.ac.uk



Q: What about work placements?

A: In the first year, you will study a module called Developing Graduate Skills. As part of this you are required to organize your own programme of work experience using the contacts we have with local employers. In addition, we organize external visits which broaden your options and can lead to work experience. Trips have included tours of local facilities such as NDDH pathology and biochemistry laboratories, South West Water and local pharmaceutical companies. Excursions further afield are possible, including visiting science festivals or exhibitions
Please note: If you are only applying for a degree course at Petroc, you can do so through our website. If you are applying to more than one college or university, then you are required to apply via the UCAS application system
Starting Date : 12/09/2023
Course Code : HEB010F / C701 (2023)
North Devon campus
Why Petroc should be your first choice
Petroc offers high quality education and training across North and Mid Devon. We provide outstanding learning, excellent facilities, strong connections to employers and a supportive environment to help you fulfil your education goals and set you on your path to the career of your dreams.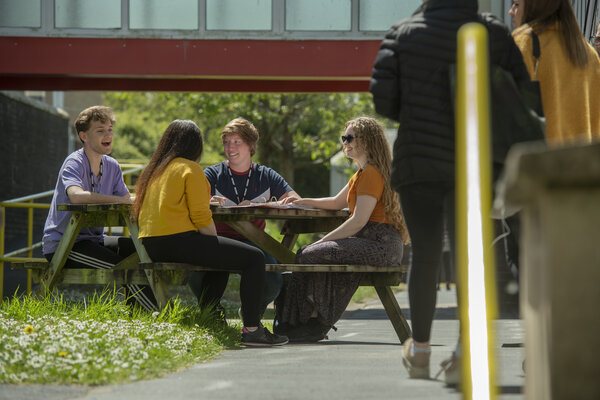 SUPPORTIVE
We offer a supportive and inclusive environment where you can flourish and feel a valued member of the college and wider community. 
INSPIRING
Our teaching spaces and facilities are some of the best in the region, providing stimulating and true-to-life learning environments. 
CONNECTED
We'll provide you with the experiences you need to be ready for employment or the next step on your educational journey.
You may also be interested in